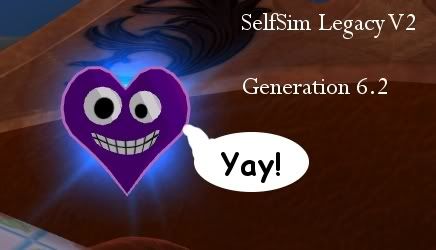 Last time, the heiress went on many dates, Groucho Marx dogs were bred, and the first baby of generation six was born with Pixie Winter (which was unacceptable) and was named Fern. Oh yeah, and the baby daddy was hit by lightning and died on the lot. C'est la vie, non?


So, let's start this time with Cleo looking for a booty call.



With the gardener :)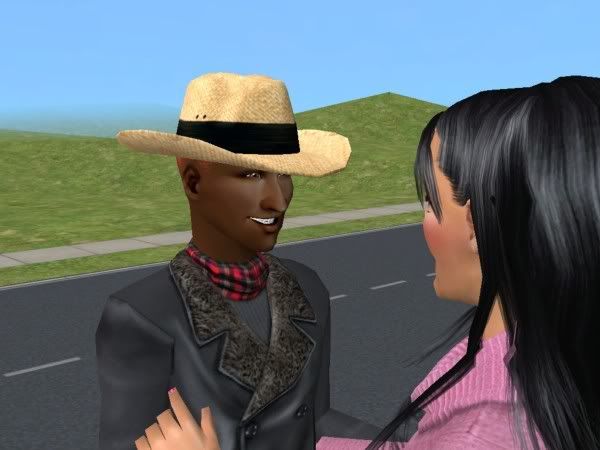 She's Romance, what do you expect? Plus, this gives me the opportunity to test out some of the genes around town, possibly including some uglies.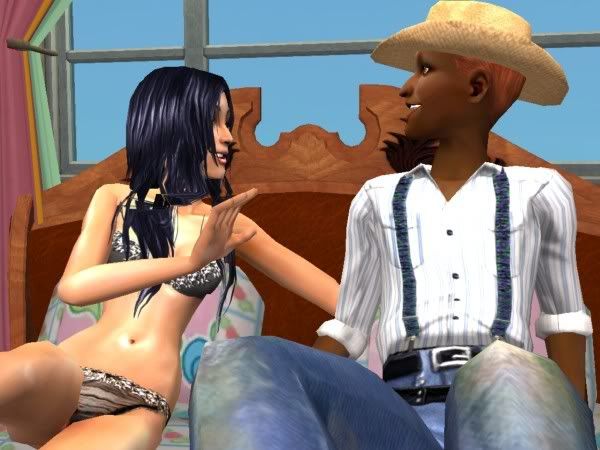 Before my 'application crashed' and was 'terminated', Dale came home from work with the flu. On my reload, he didn't get the flu, so this is a crazy alternate universe picture now.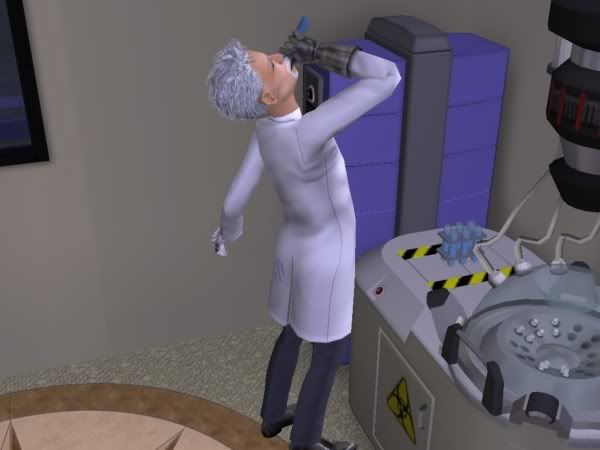 Um, she's a really good mom. Isn't it great?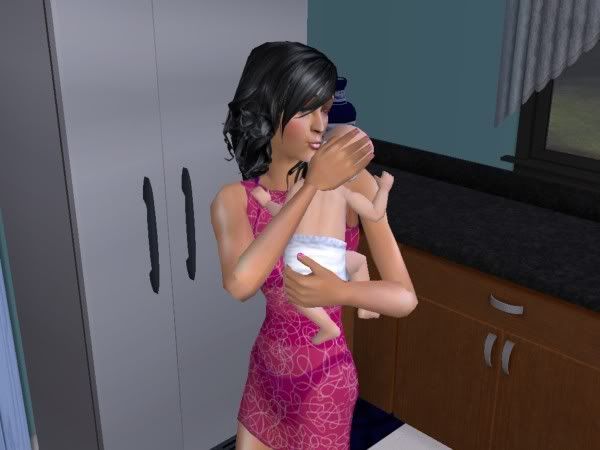 So, is this really the uniform for the Conductor level? Cause I think this was the outfit for the level before and I happen to know that this particular ensemble is the default for when something's not showing.



POW It's like a grenade went off in there!



And this one is almost nonexistant, yet it's the second pop. I'm confused.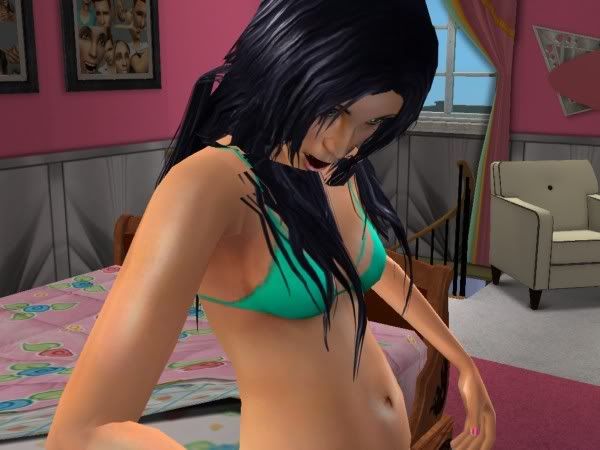 Dale is still adorable. I thought he'd go the route that all my favourite sims go: I hate them once they're elders. Nope,not Dale. He continues to dig his pixelated self into my very being. I'll be sad when he dies. PS, they sounded awesome together.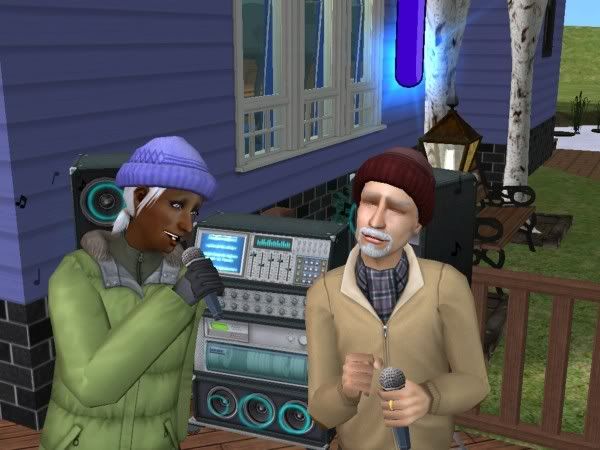 Cleo keeps getting invited on outings. I finally let her go one one. One of her boyfriends was the only adult, so they made sexy time in the change room at the Trap Door Co. He's all "Hey there, sexy beast. Long time no see! We're gonna get laid by a 6-month pregnant woman YES!"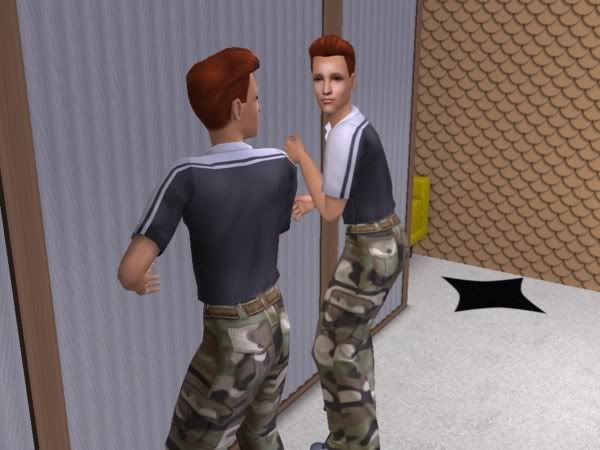 There's a camera! :O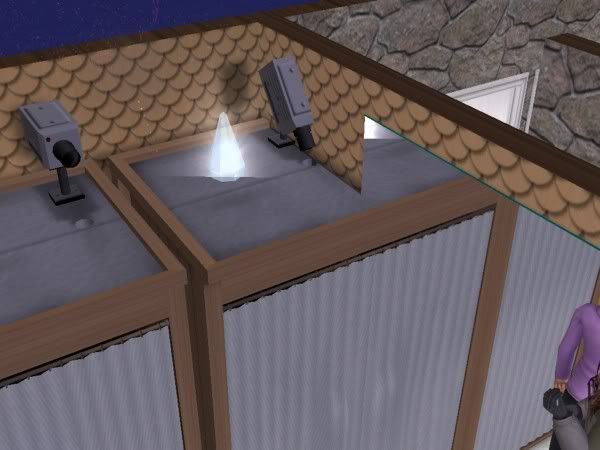 What's up, Joe? I miss you :(



I never noticed this before. See the water trickling? The shower's broken. The effect is only seen when the view is set to the same floor as the shower.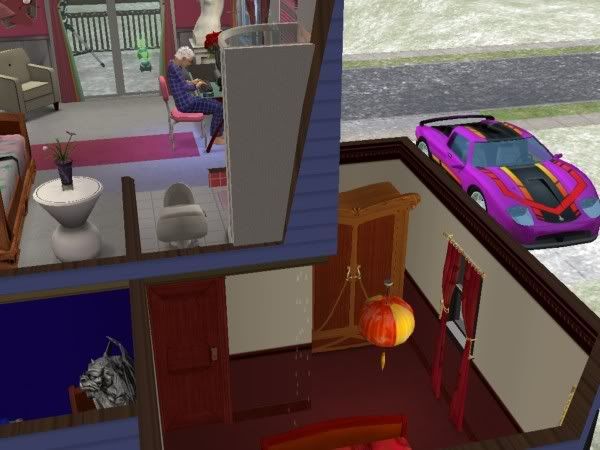 Fern transitioned into the same dreads as his Uncle Doug (hey, I have an uncle Doug! Well, he's my mom's uncle. On the same topic, I also have an uncle Wain!).



He has really thin brows. I have monstrously huge caterpillar default bushy brows and those are them. If you read my Dynast Legacy, every last one of them had skinny little eyebrows inheirited from the founder. I stuck these bushy brows on every one of the males in that family and it still looked like a family of brow-pluckers. End of pointless story.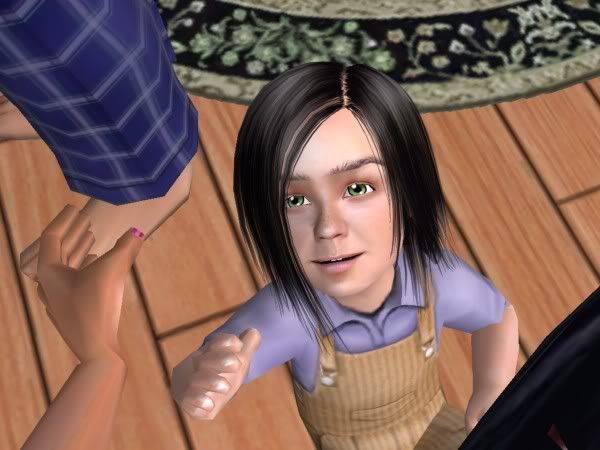 The gardener (current sperm donor to whatever's in Cleo's womb) is obviously trying to kill himself since finding out he's about to be a father.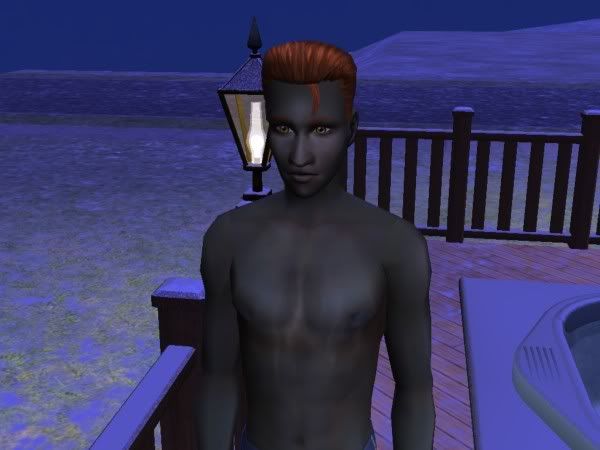 Previous sperm donor's ticked off about not having a family. Shouldn't have been in the hot tub in a thunderstorm, Darrell. At least that's one less lover to juggle.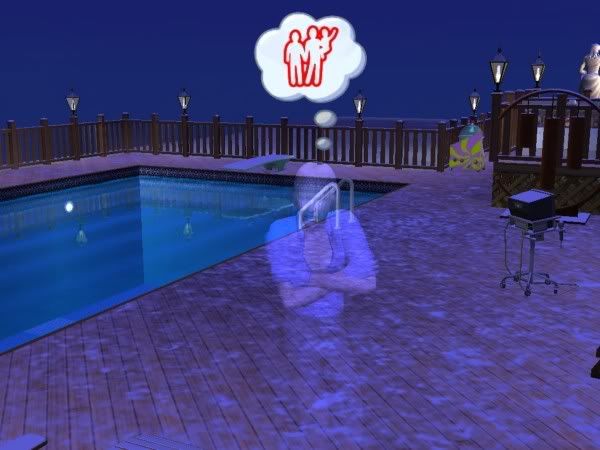 He's really ticked off.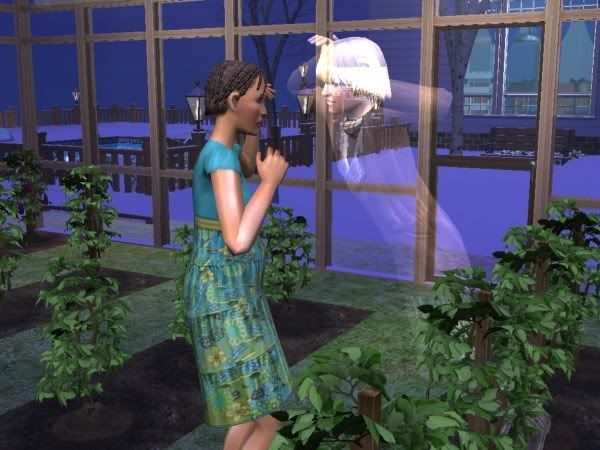 One nice point.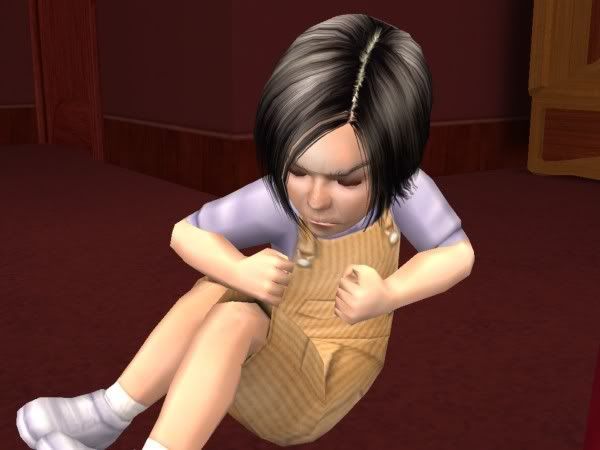 Sammy died. *yawn* I usually don't get very attached to the dogs from the pound or off the street.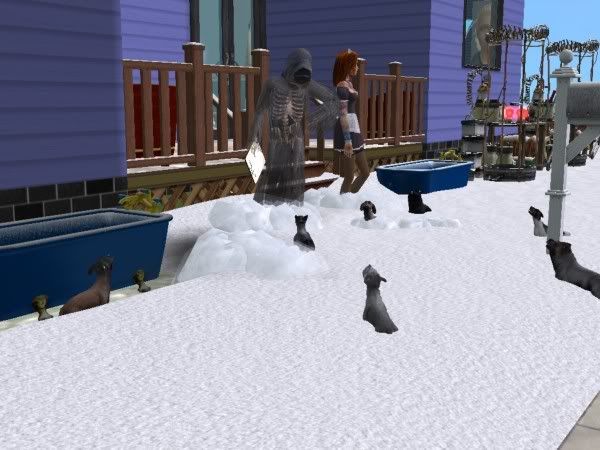 I giggled when I saw the semi-circle of dogs. Am I a bad person?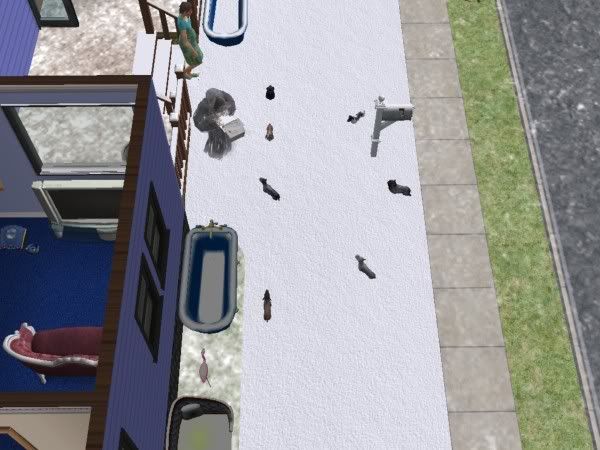 Well, at least the mess is outside, right?



A boy, Lorenzo. Please don't mock the name even though it's horrible; it's a prominent name through 5 or 6 generations of my family.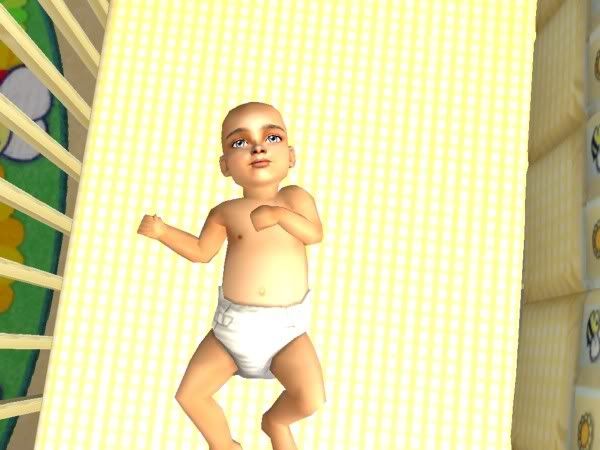 Maxis, thank you for this awesome outfit, but could you do something about the mesh? The bracelet on this woman's left arm has a skin-cuff. Great necklace, though, and I think I have that belt.
Now I'm interested to see this outfit on an S4 sim.



Oh, Thomas, what are you doing here so late?



"I'm a rock goddess and you will obey my every sexual whim."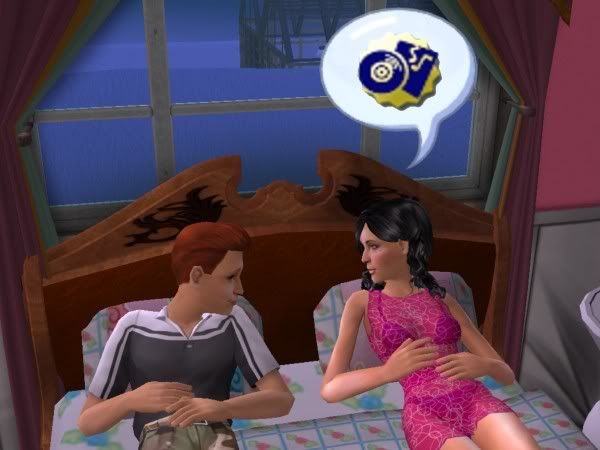 And he did.



These never get old.



It's 17.55, Dale, did life treat you well?



Hey, Grim. Hi, hula zombies.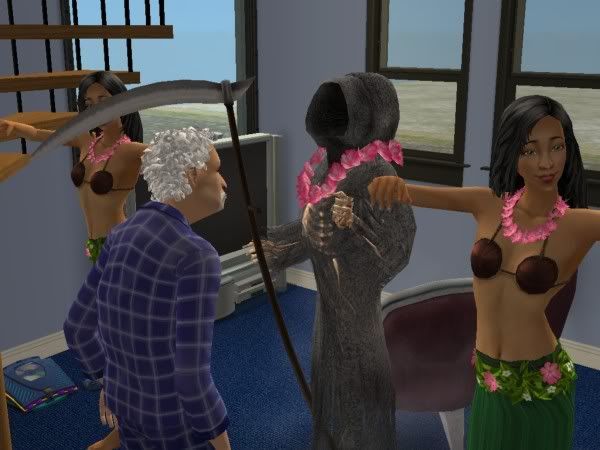 Have fun in the afterlife, Dale. I'll miss you :(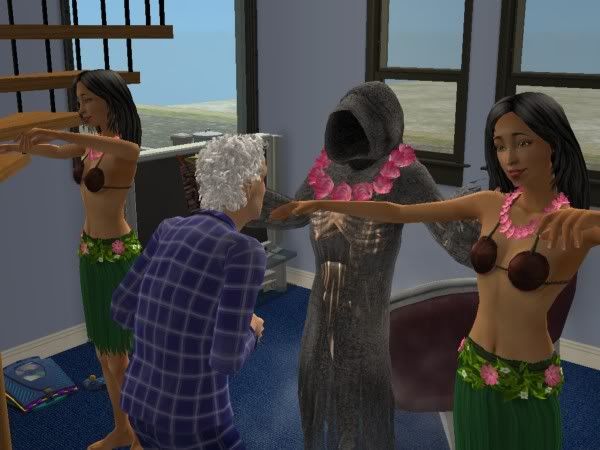 "BLLEEEAAAAAGH"
That's nice, Cleo.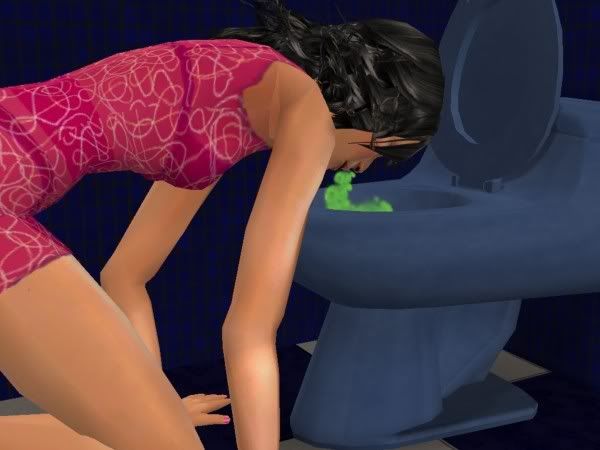 Ta-da! (Much better than 'pop!' all the time)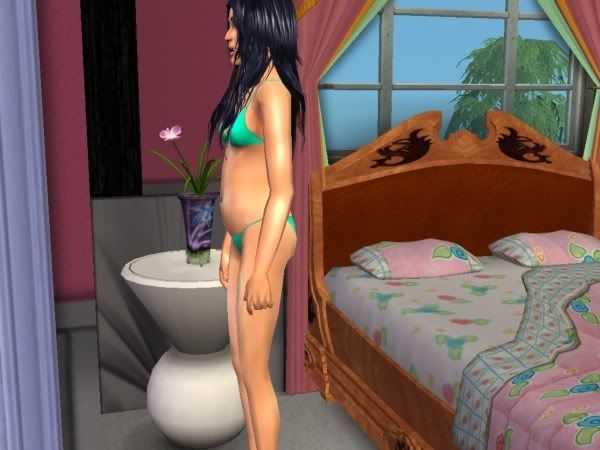 Possessed much, Fern?



The hair stays, it's just too great. He is cute! That maid did a great deed before his death.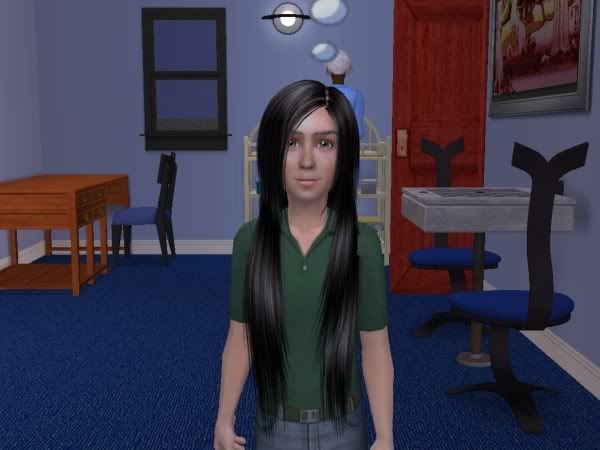 Dancing baby!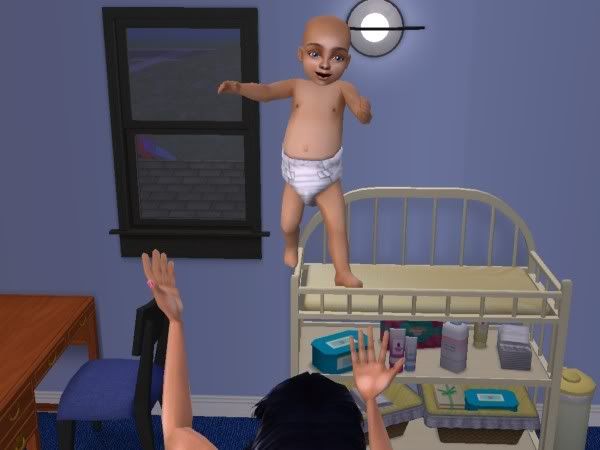 He looks like a frog, you think?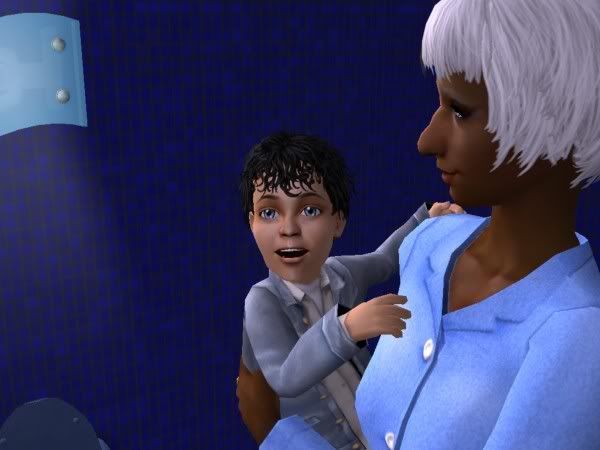 Hmmm, not cool. There's no alien genes in this family (yet), but those cheekbones are definitely out of this world. Oh, bad joke. :D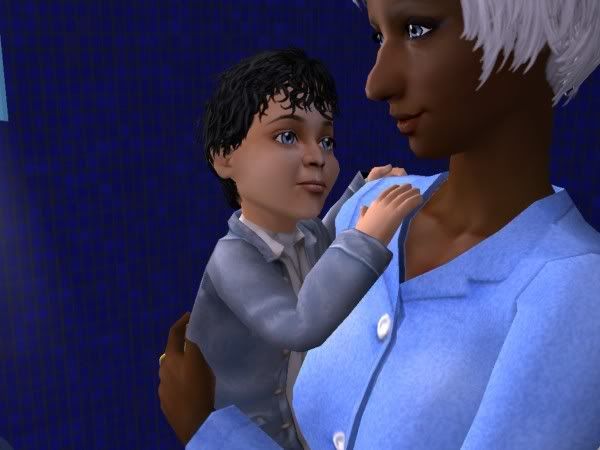 I can't tell if this is the belly of doom or not. I thought the last two were, and they looked bigger than this. My Belly of Doom (tm) fears are always unfounded :/ I was hoping for twins this generation.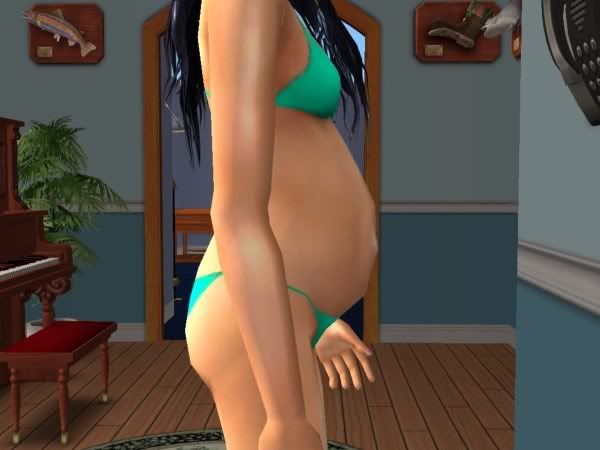 Will anybody miss her? I will, she was a good gardener.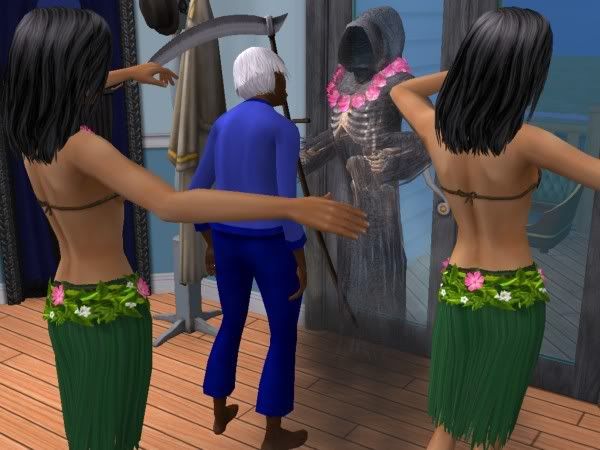 At this point, I've had a Fortune sim in every generation. First Joe, then Andrea, then Kathleen, and now Dale. I'm pretty sure one of the fathers of gen 6 is Fortune.



LOL Mischief.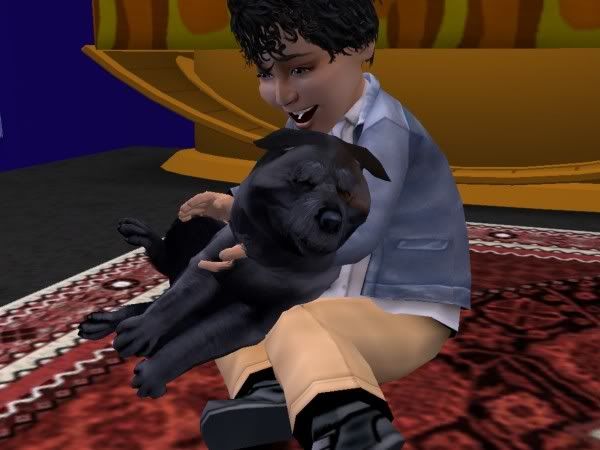 "Shooflee?"



Emily, with her father's skin and eyes, but her mother's hair. Would it kill her recessive blonde to let the red through just once?



Um...*headdesk* NO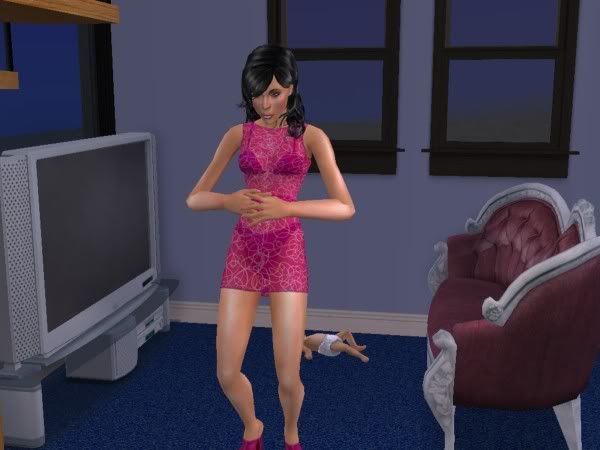 ...and Olivia (those're my cousins' names), with the same colouring as her twin. I hope they're not true identicals.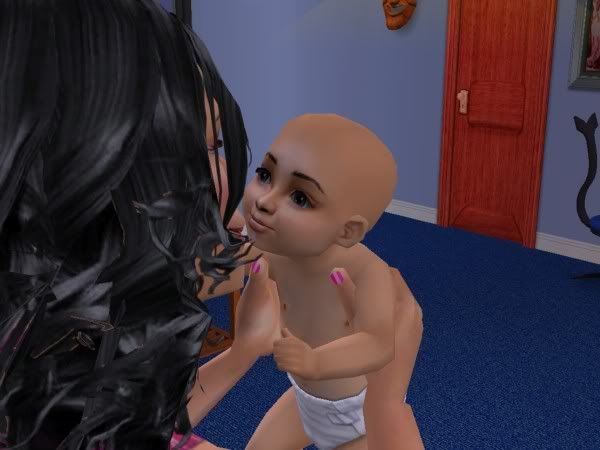 BRAT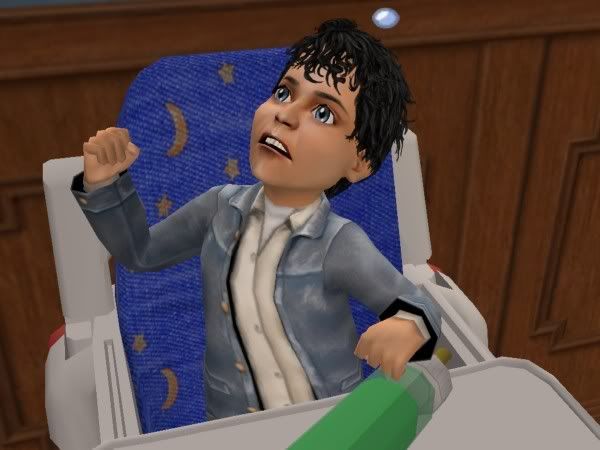 Not brat? This is his celebratory birthday poop.



I'm unaffected.



He's got his mother's face shape.



Take a look at this lot. At this point, it's lagging a bit at night on my scrolls and when I switch floors. Camera mode also lags a bit. It's just starting to get laggy during the day, too, but I don't want to move the family. I'm far too attached to the lot.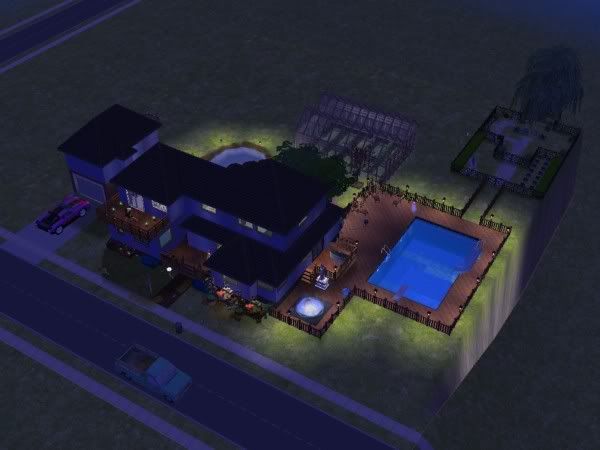 Hmm. No comment.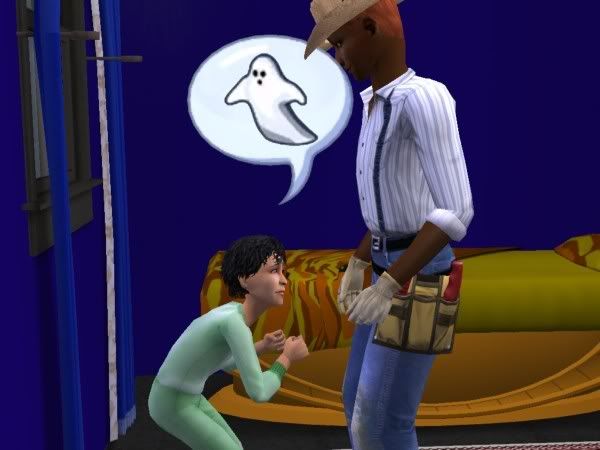 LADY PIMP STRUT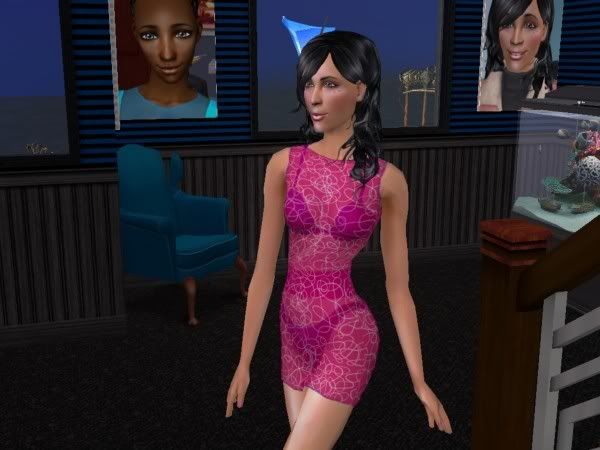 Who now, reaper?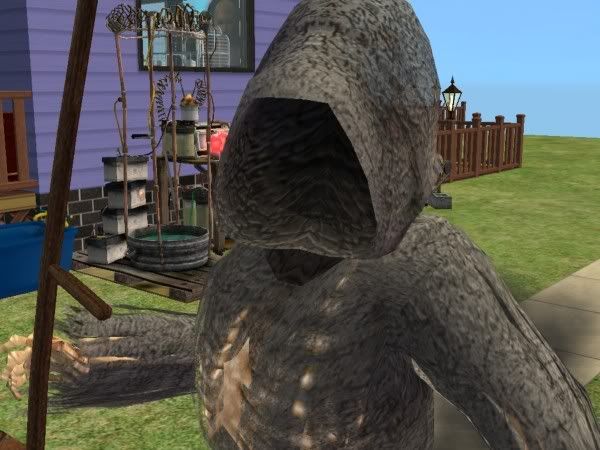 Hedda? Take her, she's been nothing but trouble. She did pass on her wicked facial hair to the doglacy, though, so she redeems herself with that.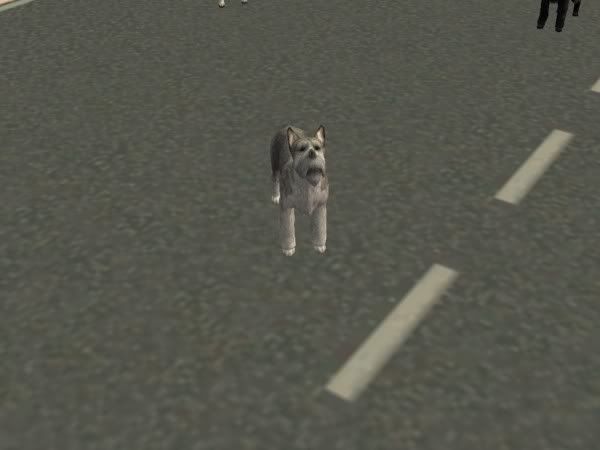 Uh, Grim? You're doin' it wrong!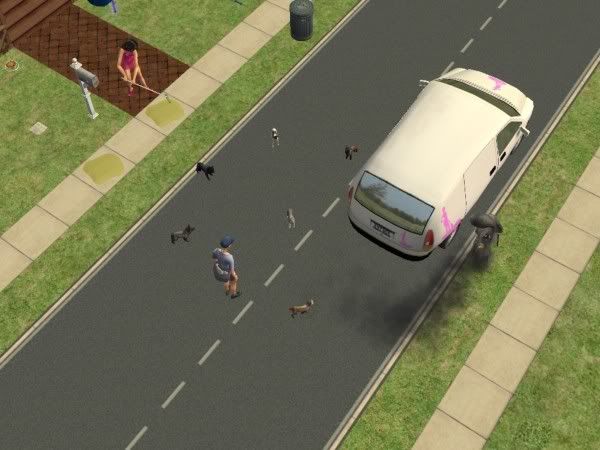 Not enough dogs in this update, so here's Biffy!



The proper way to transition a baby: shove it in your chest.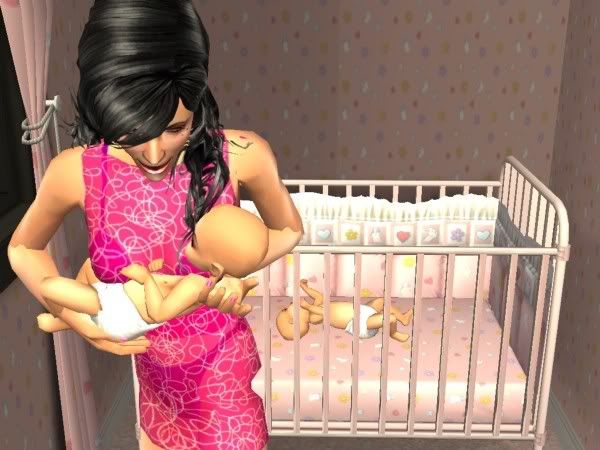 Now, you may notice black and green dreadlocks on Emily. That's because I need to be able to tell her apart from her sister.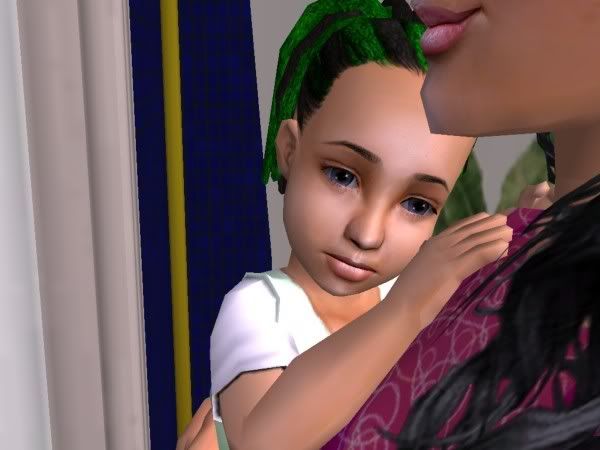 They look slightly different. I have high hopes for them as children.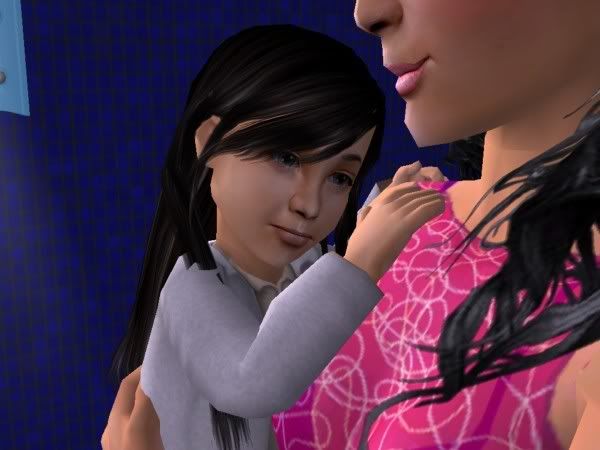 Cute little things, though.

I'm very,
very
attached to this family at this point. I play them for long sessions at a time and ignore all other things sim-like (Pleasantview, my Family Farm, the Hendersons).
Feel free to say this was a boring update, but it's hard to remember pictures when you've got a Romance sim during Spring.
Missing some?