There's always plenty of this.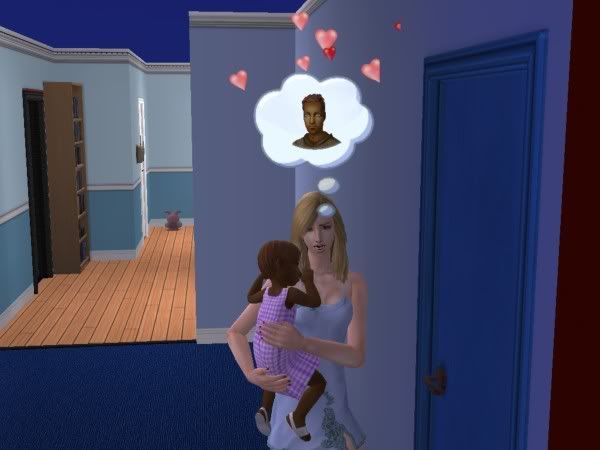 Elaine's pretty cute. While taking this picture, I realized I forgot pictures of Marie and Dorothy when they grew up.
So, Marie.
And Dorothy, who rolled Pleasure and wants to have 50 first dates. Good thing she can't be heir. She's cute, though.
Use your wings, Whimsy!
Leo grew up, too. He looks like his brother, but less gay in some manly blue pjs.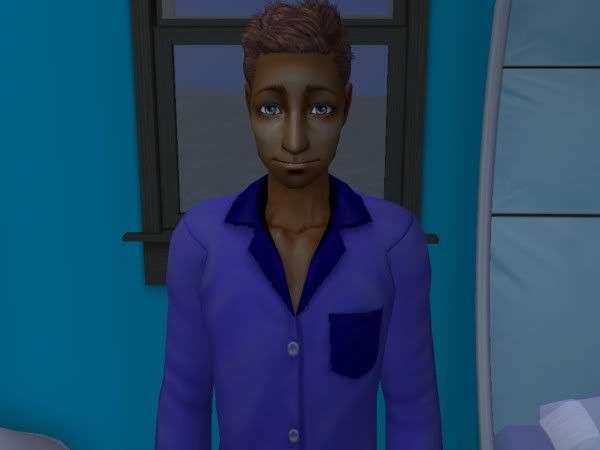 Robyn grew up. It was a couple days filled with birthdays, I tell you.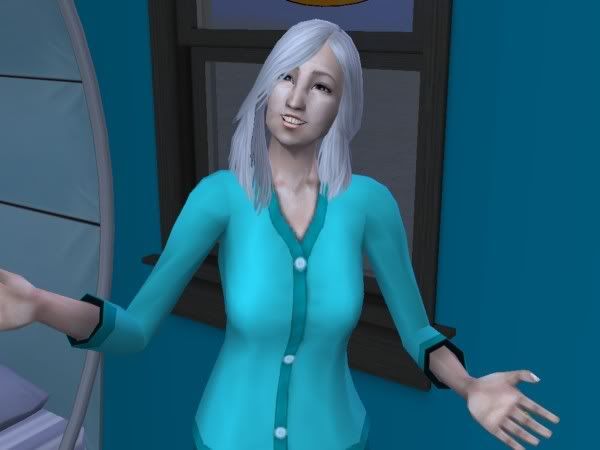 Yes, I'll be dying my hair when I get old.
This almost seals Leo for heir, since Paul never does cool stuff like this and the girls are still young.
I mean, look at what he wears to public school. Obviously, this kid's got it going on. Oh, he's a Romance sim and wants to be a hall of famer.
XD I love Whimsy.
It was the middle of the afternoon and Stinky Skunk here must have gotten into the nip or had some sort of emergency, 'cause he ran around like this for
hours
.
More Whimsy love, because she's the cutest squishy-face cat I know.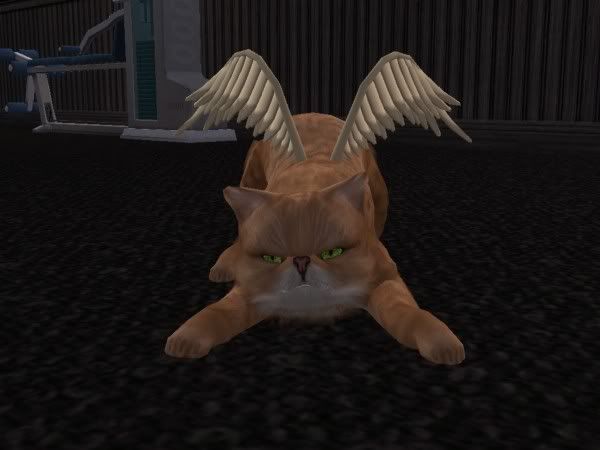 Did I advise anyone not to get Ares mad? He was poking Robyn...I made her apologize five times.
This still happens, so don't think it doesn't.
Elaine was growing up and I figured she'd be an appearance-clone like Marie. She was, so there's no picture.
Robyn found a friendly doggy! Maybe a certain gay spare will get bitten and I can laugh at him.
Joe grew up. It wasn't very thrilling and I find myself no longer attracted to him.
They adopted another dog, Mercedes, to occupy me with breeding when the legacy gets boring.
Marie continues to worry me with her great relationship with Ares. I wouldn't hug him.
Of course, she has has issues.
She's actually not bad looking. There's a lot of space between her nose and mouth, though, but she'll probably grow into it.
A fantasy selfsim clone of me finds Joe attractive in his advanced age. Well, she can have him.
I
think
she's pretty. ?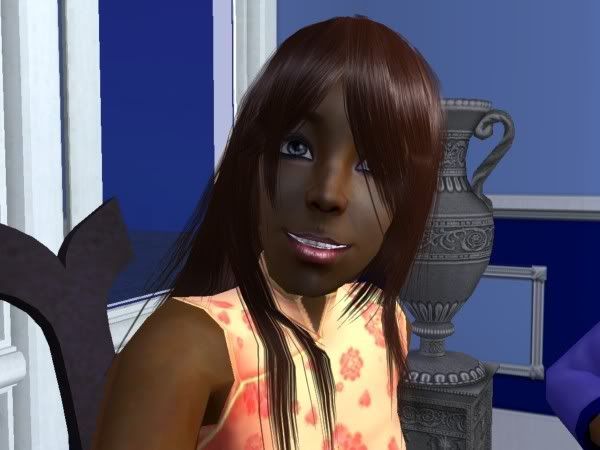 The kids all look alike, though. Not exactly, since Marie has Robyn's nose. Will Leo be heir?
Dog sex. The dogs look so much alike that I don't have much hope for the puppies.
Nightlife is great.
LOL cat puke.
Robyn was promoted to something. She's just one promotion away from Mayor. Does Simcity need her for mayor? Maybe.
I'd be wary of any family with a tendency to make friends with glowing-eyed doggies.
:D This is Adonis. Hopefully, I'll be able to adopt him in and breed him with one of the puppies. He's so cute. Actually, I have a fish named Adonis. He's red.
Lucy has a lot of anger. Her siblings approve of the unprovoked rage on the dollhouse. Have I ever mentioned how many times the kids all congratulate her on being adopted? They remind her everyday that she's not actually related to them.
Hermes
is quite attractive.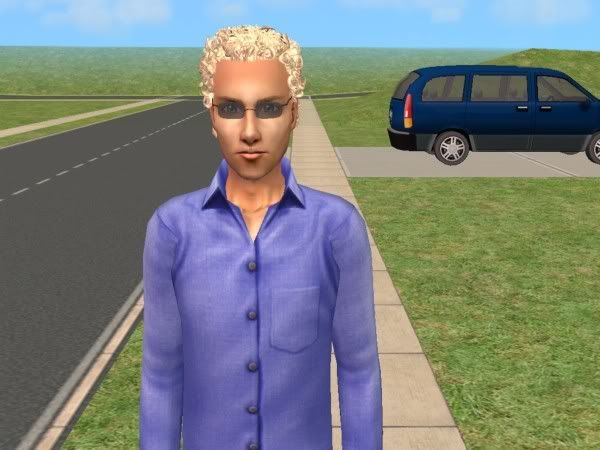 Elaine is a very neglected child, despite her A+. I rarely even get the family to feed her.
What's worse: Is it the pee puddle that the hm is so happy to stand in? Is it Joe in his underwear? Is it Paul's 2 days' worth of homework? YOU DECIDE
Or is it the rotten lunchmeats that everyone is consuming? Rotten lunchmeat is worth 20 food points, remember that.
I think maybe the headmaster is attracted to underwear. And men. He and Robyn were discussing Joe's hotness, I missed her floaty hearts.
Of course, they got in. Well, most of them got in.
No-homework-doing, D- average, gay llama boy didn't. I can't imagine why.
Whimsy is still awesome.
Elaine looks so happy to go to school. Private school is her highest achievement in life.
Puppies! Medusa and Minotaur, but I couldn't possibly tell you which is which at any given time. They have big heads and make me smile.
Paul grew up and I think he's rather nice-looking. I'm so tempted to make him heir, but I want to see Marie first.
Stupid gay guys, WHY DO YOU HAVE TO LOOK SO GOOD? Blond hair's gotta go, though.
Pink shirt?
Leo's working on the papergirl. She's cute, but she bears a resemblance to a certain adopted family member of his.
I couldn't possibly tell you who.
I hate these pyjamas.
I have high hopes for Elaine's attractiveness, hopefully she doesn't turn out
too
well, since she's the lastborn.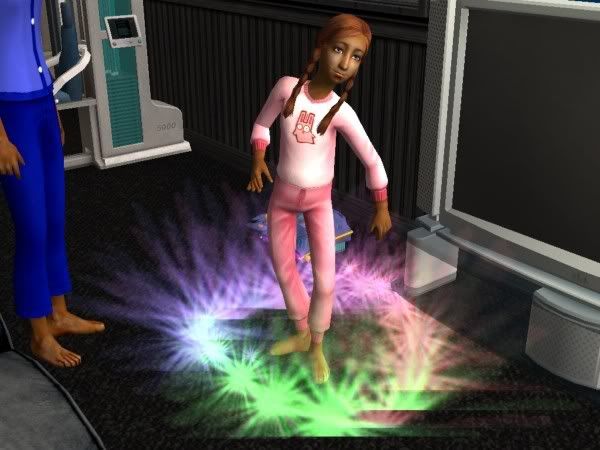 Not bad at all...
Until you see her nose from the side. I assume it will look better when she ages again, but I don't feel like waiting.
PS, Maxis outfits rock. She rolled fortune, criminal mastermind, and likes blonde and black hair, but no cologne.
Marie has quite a nose as well.
And Leo has Joe's nose, which I happen to like and so makes him heir.
Paul got the promotion he wanted. Yay 3000!
But Joe completed a LTW and got 25 000. He now wants to have 6 pets reach the top career level, which isn't happening.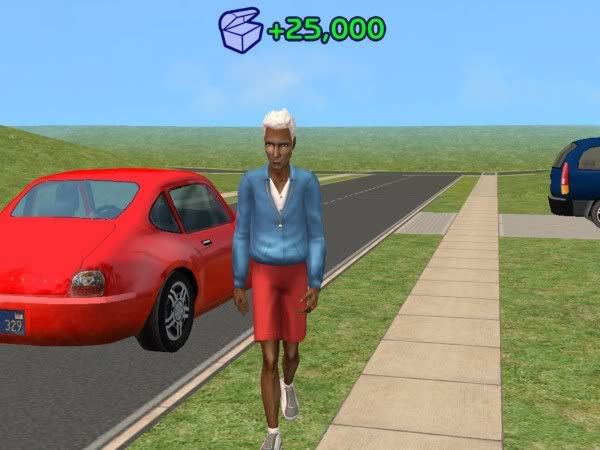 I moved Paul out, since I don't like him.
He took his sisters with him because I would like to concentrate more on the heir.
But don't worry, I'll try to keep you up to date on their household! It was Dorothy's birthday.
I am very impressed with her. Tragic that she can't be heir.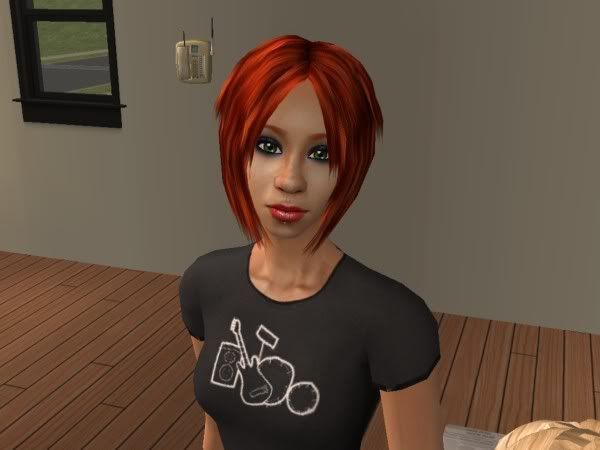 And that's al I have for you today because the Henderson Uglacy became extremely exciting last night while I was playing and I want to play them really bad.