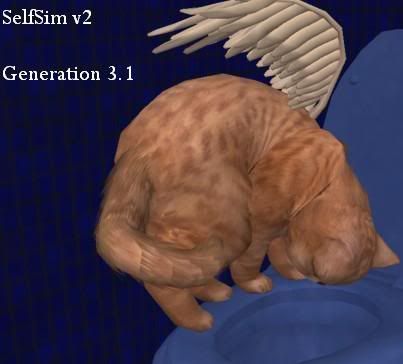 Last time, the kids all were accepted into private school because the headmaster found Joe sexy (rotten lunchmeats helped out), Whimsy was found to be steadily holding on to awesomosity, the heir was officially chosen, and the dogs had puppies.
Ahhh, the freedom of being elderly. I feel horrible for Leo, who was kicked out the hot tub and left just as his saggy parents launched themselves into some long-needed woohoo.
Uh, a third bird died. I'll admit to forgetting to feed Flappy, but I just didn't care enough by then. Whimsy cared.
I want this cat to breed with Whimsy. I have never seen Maxis generate an animal with different eyes.
Leo dyed his hair!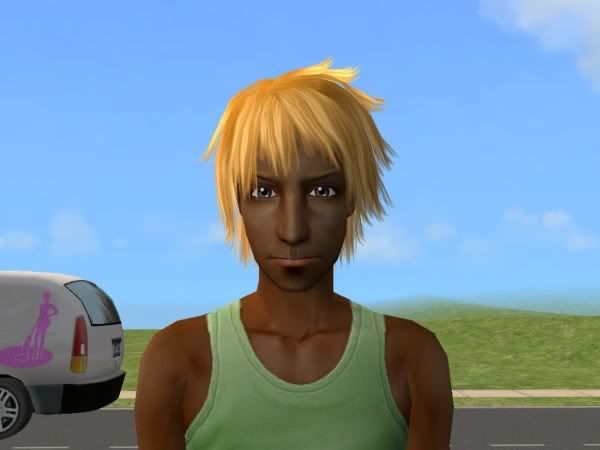 Kidding, that kid just looks an awful lot like him; it freaks me out.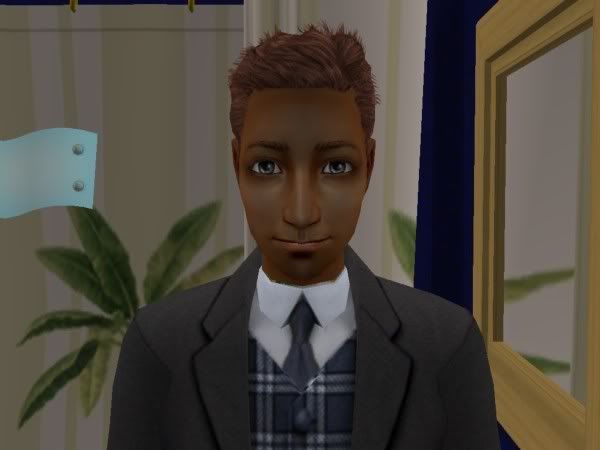 The puppies had birthdays...they're identical.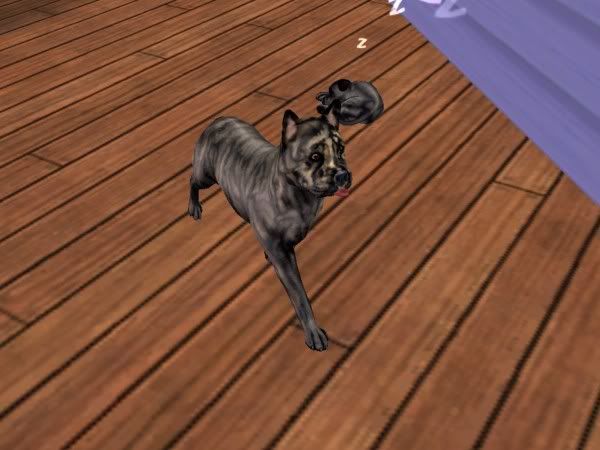 Yes, this is the other dog.
I had a specific purpose...oh yeah, the constant autonomous touchy-feely that goes on between elders. I just notice in this pic that I still have black nail polish on Robyn. She's hardcore, k?
I have no wit for this picture. Make up your own.
Robyn attends in her pjs and Leo's long-lost twin cheers in the wrong direction.
*dazzle*
I like this outfit. I think it's adorable. But then, I like Maxis's kooky idea of what constitutes designer duds. Duds they are, too.
Um, attractive much, Leo? Can I be attracted to my simson without getting into trouble?
Next step: recruit Pleasantview-ians that I wanted to breed into the Dynasts. I don't care for standard pretty...
They cuddled in the hot tub. Leo's naked. He
always
jumps in naked.
It was a good cuddle. So good, they cuddled 5 times in a row, and then cuddled twice more in bed.
Sorry, Dagmar, maybe next generation, k? I'll get a male heir JUST FOR YOU.
Andrea Hogan, Fortune, Criminal Mastermind, likes stink and fitness, but no blondes.
She uh, alright I'll say it: she's hot. Say what you will about her eyes, but I've always wanted to play her.
Leo started a wonderful blaze. He was standing right over the stove, so I don't know how it got out of control so fast...but...he
is
a sim.
Luckily, a cute firefighter came to help him out.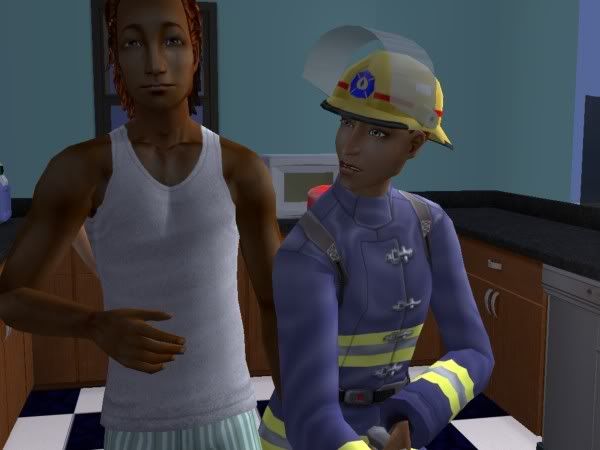 ...
My friend (actually, it was Jaclyn) and I made a
pharaoh's hound
. How did we do? It would be better if I had red unlocked, but I don't.
There are so many Pleasantview women that I want to marry in! Expect male heirs for a while.
I love my selfsim.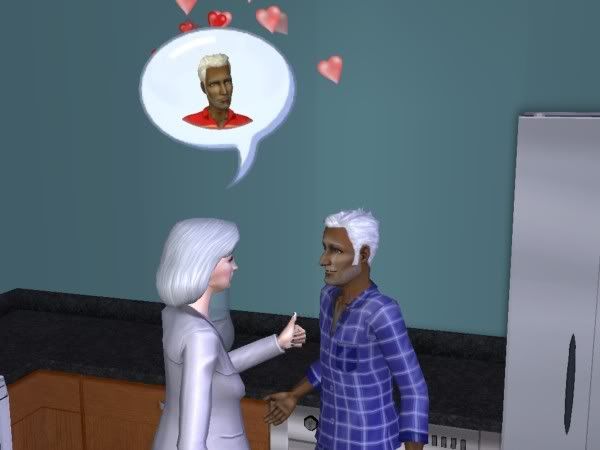 I forget what was happening here, but Andrea's face lol
Oh yeah...that's what I get for not looking ahead before I type.
She hated pregnancy. Kidding, this was her pose when I told Joe to paint her portrait. This is why I usually just select Still Life.
I don't think the kids will be very good looking, but I wanted Andrea SO THERE.
Uh, this was such a bad idea, but Robyn was in failure and Andrea rerolled the want everyday.
She looks...happy.
LIGHTBULB
*gasp* AUTONOMOUS primping! I'm so new to Nightlife...
Robyn adopted another stray. This is Rudolph, the cutest Italian Greyhound EVER.
I was playing and sent Andrea to tell a joke to Robyn. Guess what happened instead?
Yeah
Whimsy made me sad with her yowling. I felt bad for her. Poor kitty D: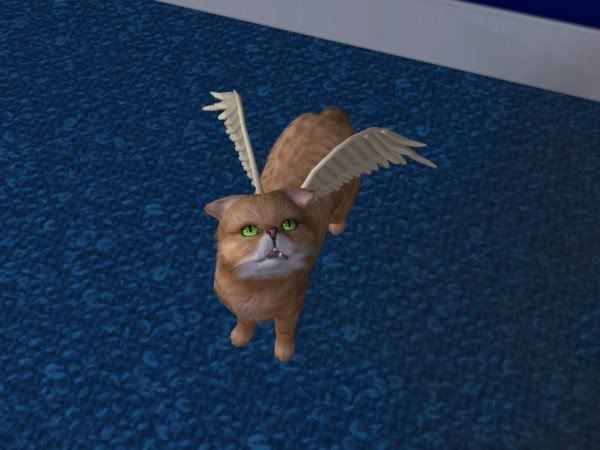 I couldn't decide if I wanted a masoleum or a cemetery.
Guess what I picked.
I always get so excited at the second pop, only to be reminded at birth that I won't be able to tell what the kid actually looks like.
Yeah, all sims look huge when they're pregnant. Always.
Notice that nothing happened the whole time she was pregnant. They're not very exciting sims.
Leo: Baby time? Cool. Catch ya on the flip side, A.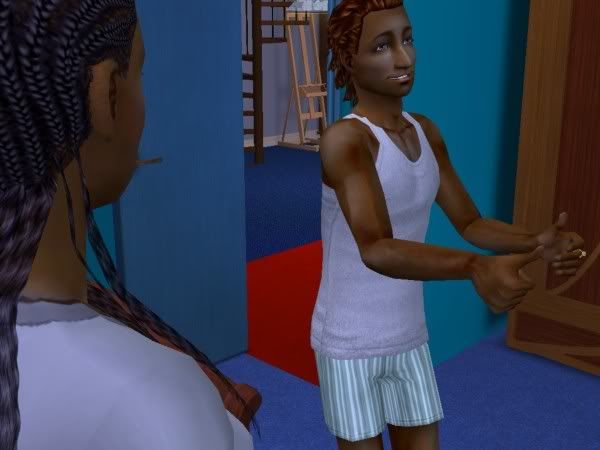 Leo: Wait, BABY? NOOOOOOOOOO!!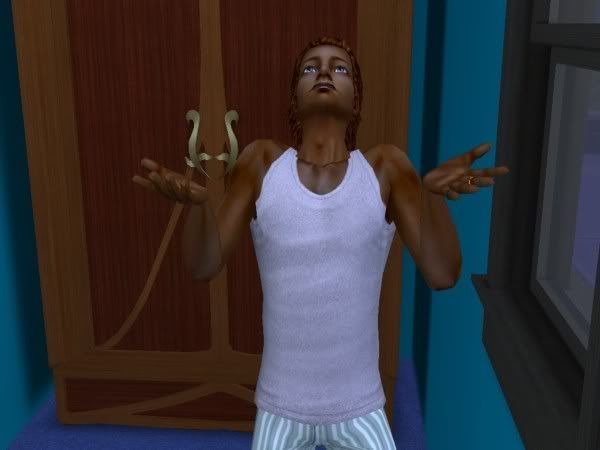 Looks just like generation 2. Stupid custom eyes. Actually, they're geneticised, so it's entirely my fault that they're showing up.
Definitely not a portrait of Whimsy. Moving on...
Whimsy kept dreaming of tombstones and Robyn's face. Aww, poor kitty.
Andrea before and after, courtesy of my MSPaint skills.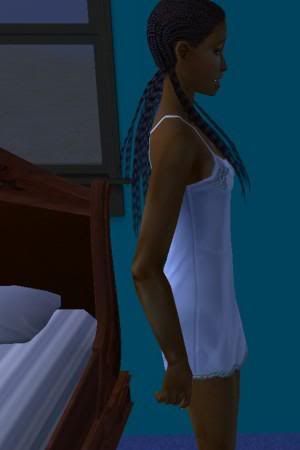 Bellerophon got old (it's a common theme lately).
I never tire of the toddler transition.
Especially not when the toddler's reasonably cute. Oh, Jane, you adorable thing.
Oops, didn't pay attention, there.
This is only the second toddler I've had that has gone to watch the fish tank.
Story: So, there I was, playing away *click click yell yell* and I got one of the most wonderful message boxes you can ever have in a 5-pet 4-sim household: "FOUR new pets are on the way". OH CRAP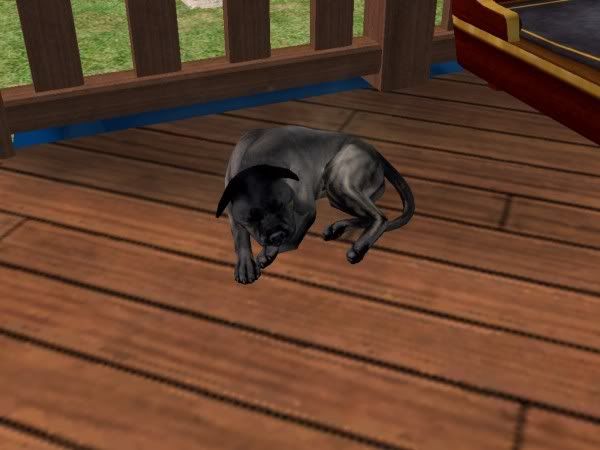 Here's three of them; I'm sure you can assume what the fourth puppy looks like.
Dog pile *snerk* This happens a lot. A lot less now that I moved some objects out of the way.
No matter what expression she's making, I find her very attractive.
Meet Philippe. He has Joe's eyes, and, for that, I want him to be heir. Also, I've got a lineup of townie women that I want in this legacy. We'll see how everything works out.
Whimsy got old, even though I really wanted to breed her. She was glitched and didn't age, but I forced her for continuity's sake. :(
The next update is half done already. Once the household starts getting full, I start playing more. So, with so many animals to train and sims to keep busy so they stop harassing the baby, expect another update soon!
Current Mood:

okay