Last time, Jane grew up, got knocked up, and had a hasty marriage in the kitchen to Ross, taking her husband's last name and becoming JANE STEELE. We all sit with bated breath for Kathleen to grow up and move out with her loser brother, Philippe, so I can free some room up in the house for the quickly approaching generation four.
Andrea has been oblivious all her married life. Leo's been an awesome romance sim.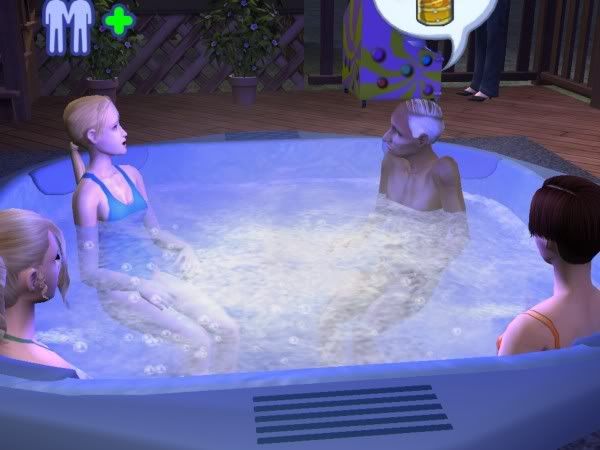 Generation 4 has arrived! Oh, Ross likes blondes, but I won't keep her like that for long, since I've noticed he likes her sister, who is brunette. NOTE TO EVERYONE: recessive hair genes count for attration!
GAH the kid was born albino because I forgot to remove the skin
again
. Too many occurrences of albinos, so I'm going to change it.
Does anyone know how Wain here ended up blonde? His mother is brown/black, which should dominate his father's blonde/blonde. *Andrea Hogan is naturally blonde :/*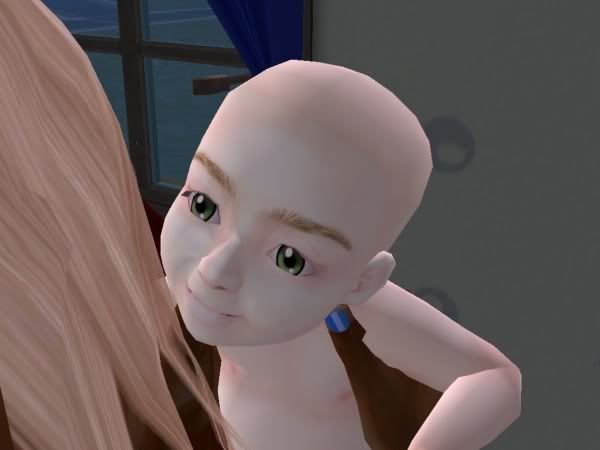 I put a tattoo skin on him that is coded as a slightly darker skin than albino. It also apparently has a crown on the baby's forehead.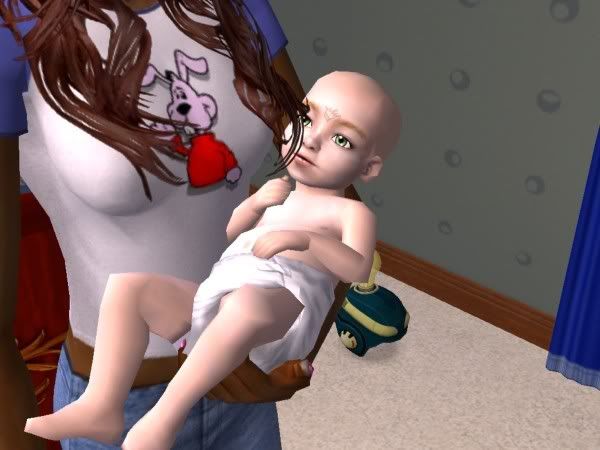 Well, it
is
a legacy.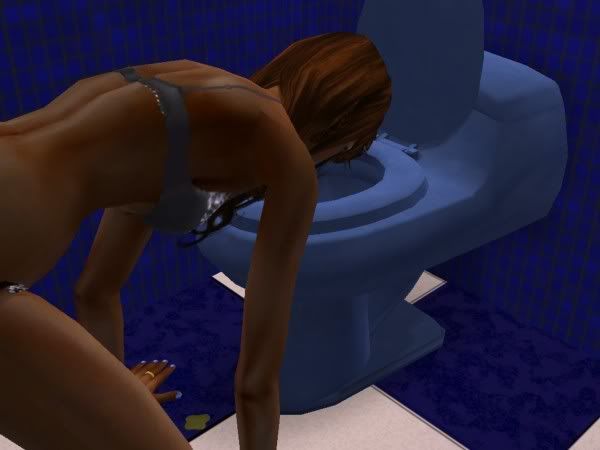 The first litter of puppies grew up. One has floppy ears, pink eyes, and a rough coat and the other has pointy ears, red eyes, and a curly coat.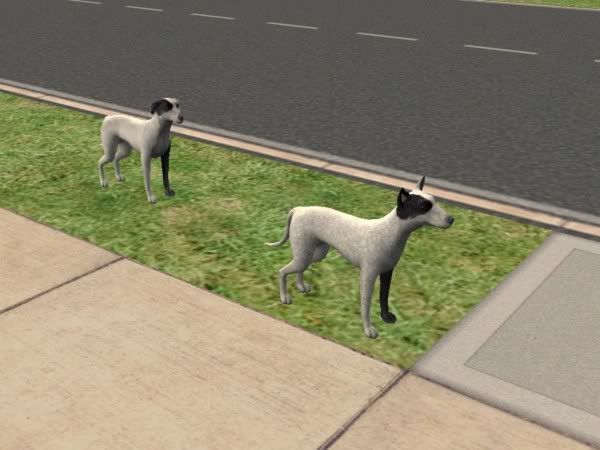 Finally, we reach Kathleen's birthday. Note the lovely new pool area with path leading off to the raveyard.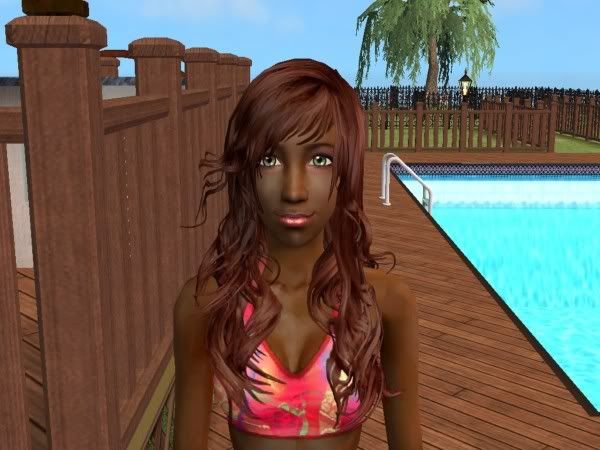 WOW she looks the same. Stephen Gothier, you are scary, man.
Pop!
I'm pretty sure this is her makeover shot.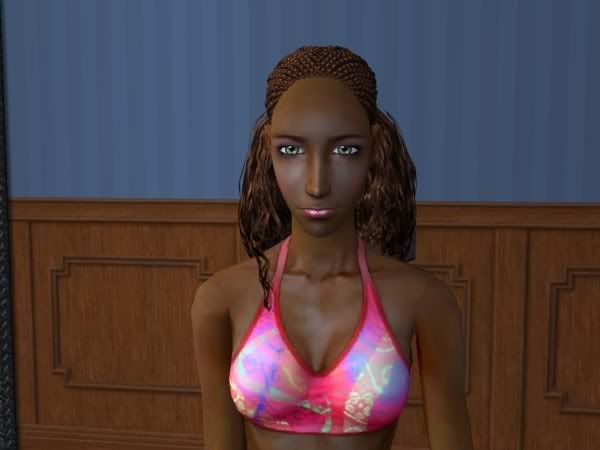 Doesn't matter. Say goodbye, everyone! Oh, and check out her nose, too.
They left in their pyjamas. Everyone that was awake waved them off to their new home.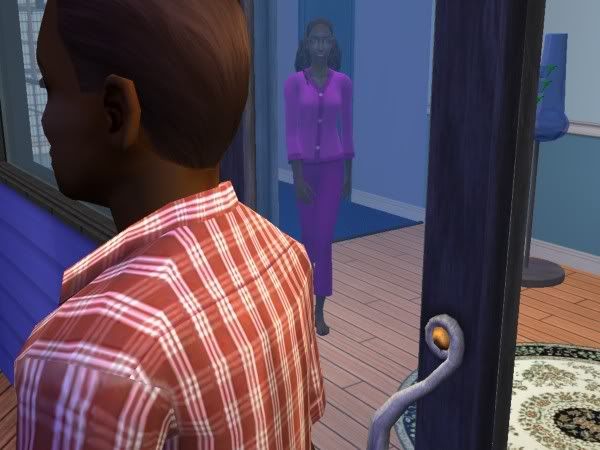 I'm playing them, and they're marrying their high school sweethearts because I'm sick of the same two kids coming home from school with every generation.
We all know who this is, right? Turns out she's beautiful. And a knowledge sim.
What, you don't recognize Kathleen's husband? It's Leo's
lookalike
. He comes home with the kids EVERY DAY, so I'm getting rid of him humanely.
He looks evil :/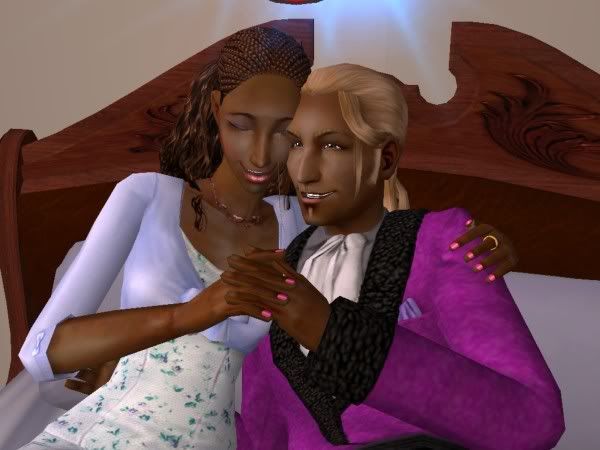 :O
Now back to the legacy house.
I saw the fire before she did, but she's the one standing there fueling it.
I think Leo wants a piece of the fireman.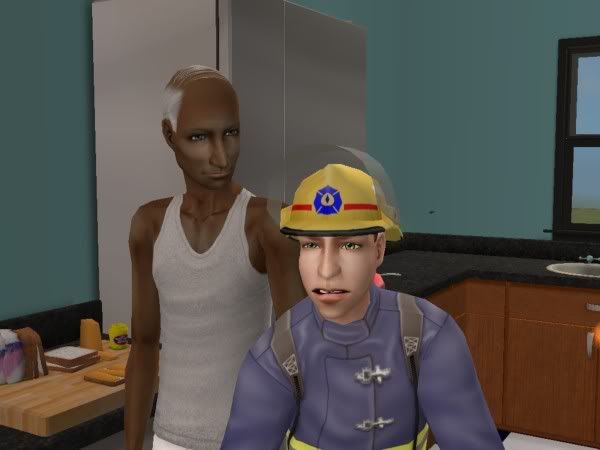 Imposing Belly of Doom (tm)
Uh, ew.
The other two puppies grew up.
I don't know which one to keep, because they look identical, with their little black underpants.
Is he...grey? Shoot, I put a weird skin on him.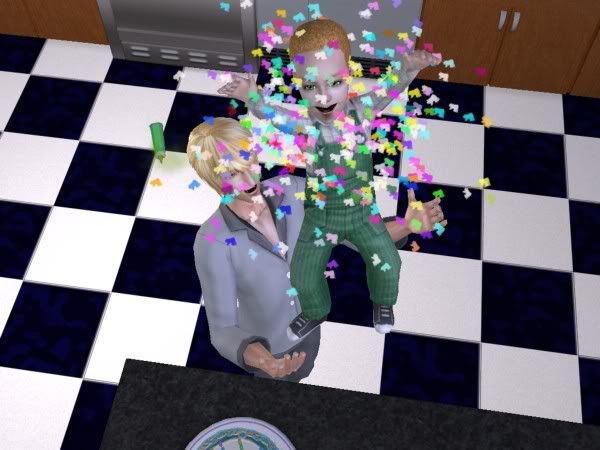 No more albinos, k?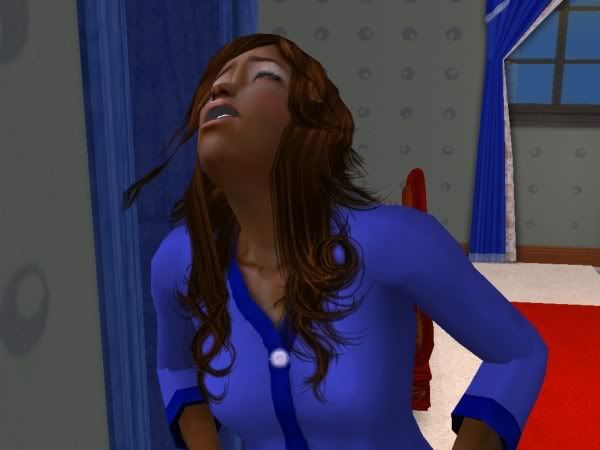 Phew. Looks like a nice blended skintone.
Meanwhile, in the gen 3 spare lot...BUBBLE GLITCH!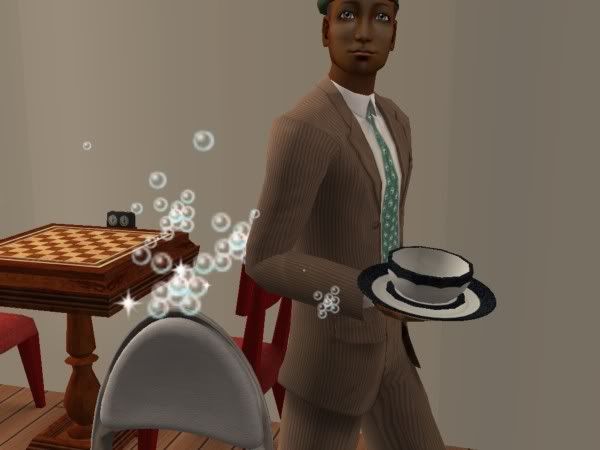 Kathleen is blonde for her husband. It works for her.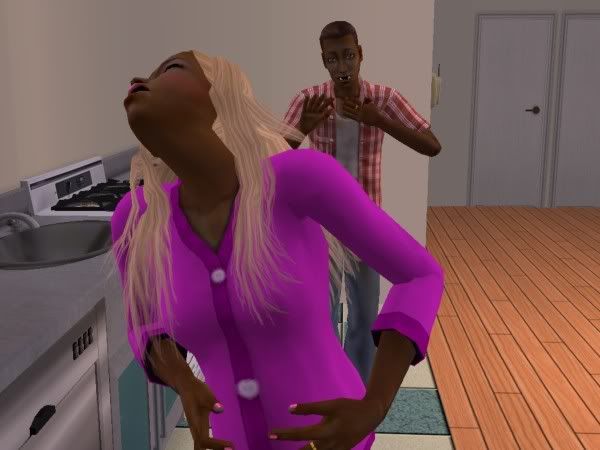 Meet Bob, with Richard's eyes and Kathleen's hair.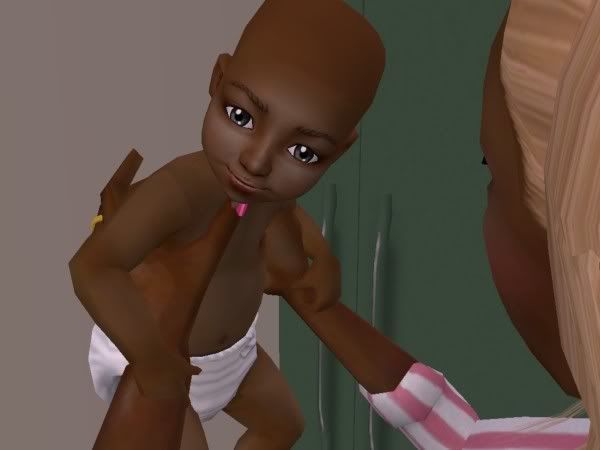 Ivy went into labour the next night right after I finished building a nursery for two.
This is Jeff, with all of Ivy's colouring.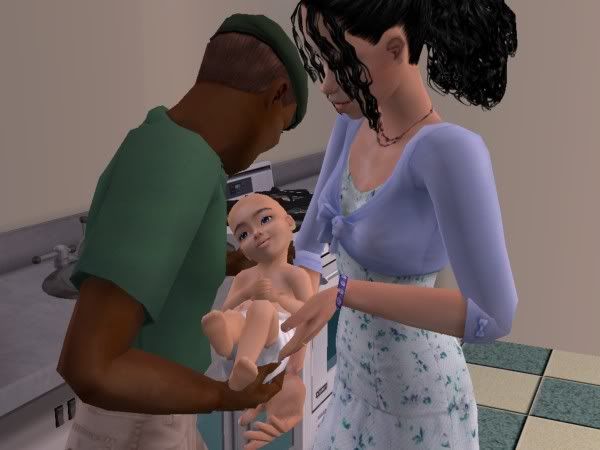 And this is Jim, also with Ivy's colouring. They're not clones, though, I checked their DNA in SimPE and Jeff is recessive for Joe's eyes while Jim is for the founder's eyes, which were dominant in his grandfather. :D Genetics.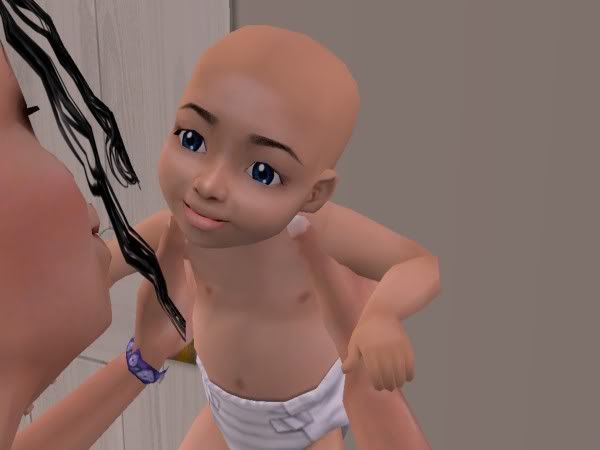 So, this is Bob. I'm in love with that face. That's his natural look: mischievious.
And Jeff posing with a pile of garbage.
And Jim. You can tell who the twins' mother is, that's for sure. I wish she'd thrown a girl.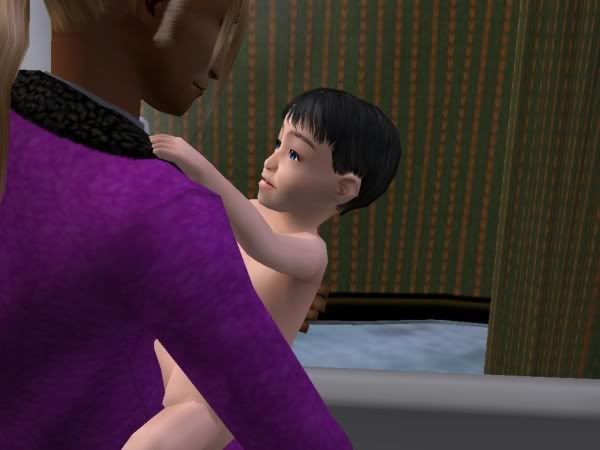 Once again we travel back to the main lot.
Wain is consistently grey, which lets me know which skin I gave him. He also appears to exhibit toddlerhood long-chin sydrome, a terrible disease which causes downward movement of the mouth throughout the affected sim's life.
For
wylde_sims
, some fish.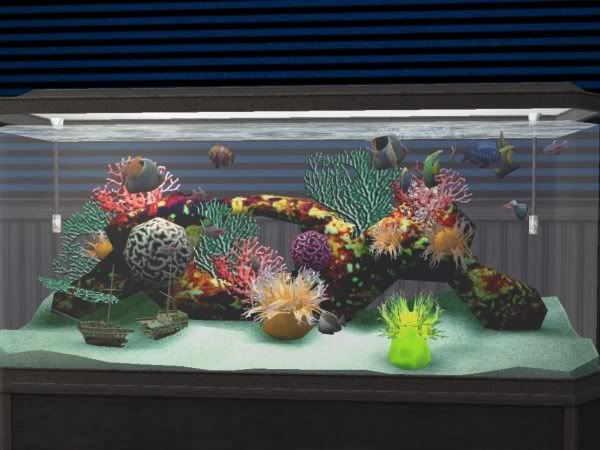 BE BLONDE, KAYLYNN, there's no shame in it.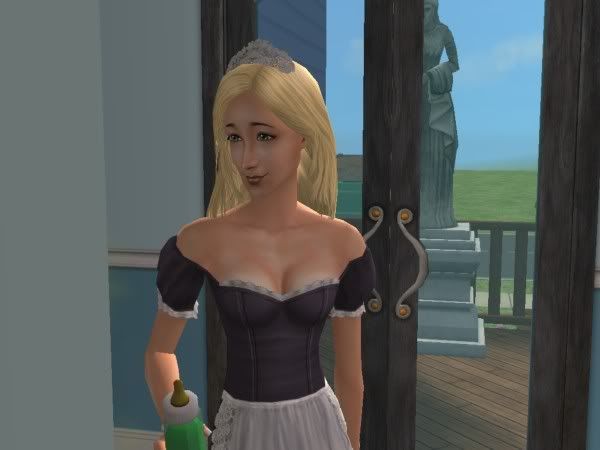 Oh! New puppy! I hope she's cute. The family kept one of the floppy-eared dogs with the pants-like colouring.
I love Jane's portrait.
Question: Although I've been using it since I started using default skins, I'm really disliking how Lin's skin's look with my new graphics card (that, and I hate the EYEBROWS ON THE SKIN). They're really blotchy. Besides Enayla, her skins are too greasy, what skins are good defaults?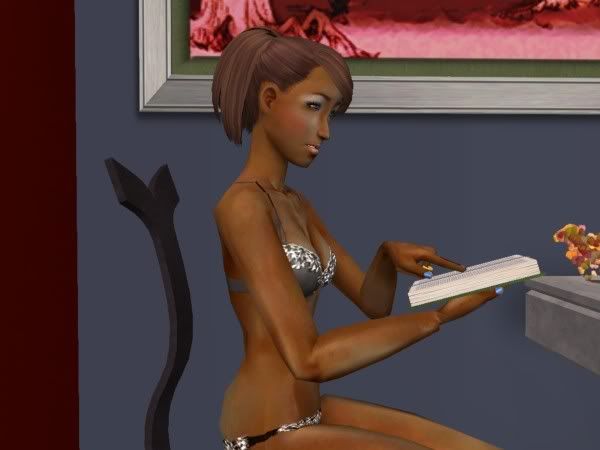 Ugh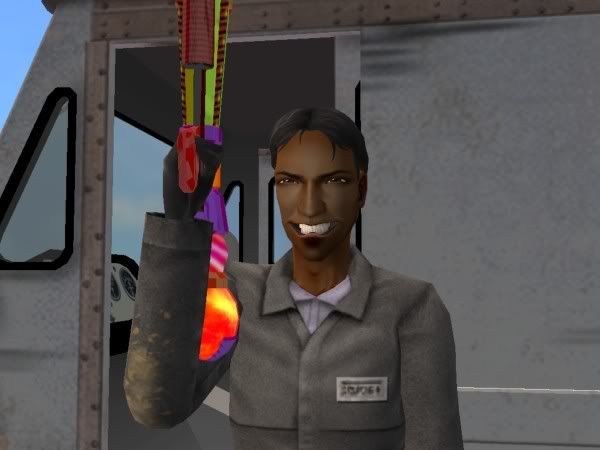 *sigh*
Does anyone else find this very sad? The kid's RIGHT THERE, Repo Guy.
I'll admit to laughing.
Richard, you are not allowed to molest the baby just because you are married to its aunt. The baby's own parents are not allowed to molest the baby, so QUIT IT.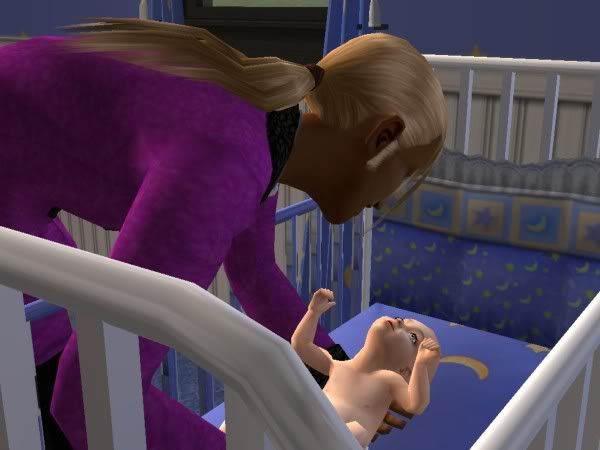 Grey alien child
Wain's birthday!
Beau Broke, is that you??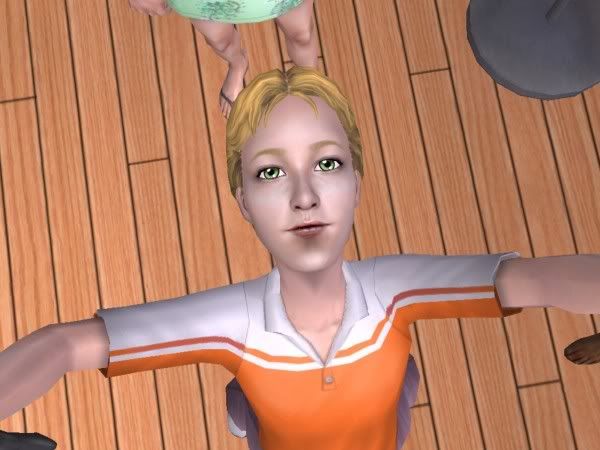 Marie NO. You are not allowed to hit on your niece's husband, no matter how sexy he is in Hugh Hefner's rejected bathrobes.
Leo: So, do you think we'll have Bon Voyage or Seasons installed next?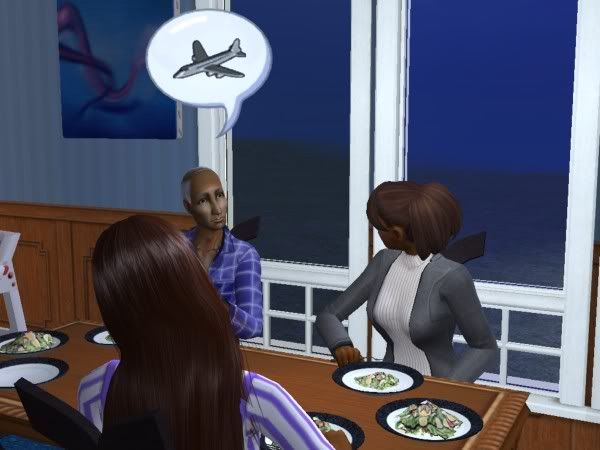 *eyebrow raise* Little brat's birthday snuck up on me.
Anyway, I put some gloss on Wain because his lips were freaky. Also, I left the walls down so you can see that he looks just like his dad.
:D Toddlers with toys.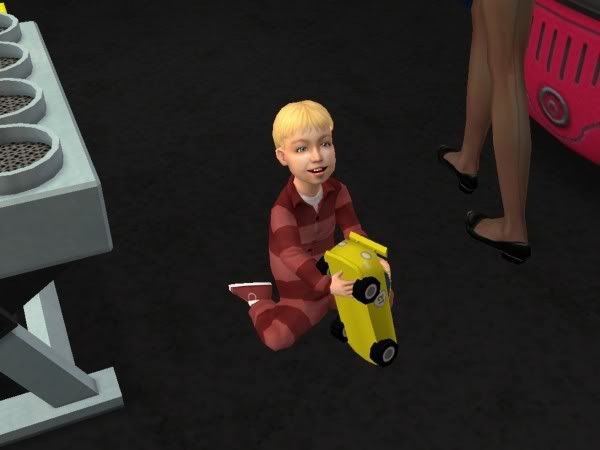 Blue is on the way (for
skittlebox
, mostly, but for
franwi
, too :D)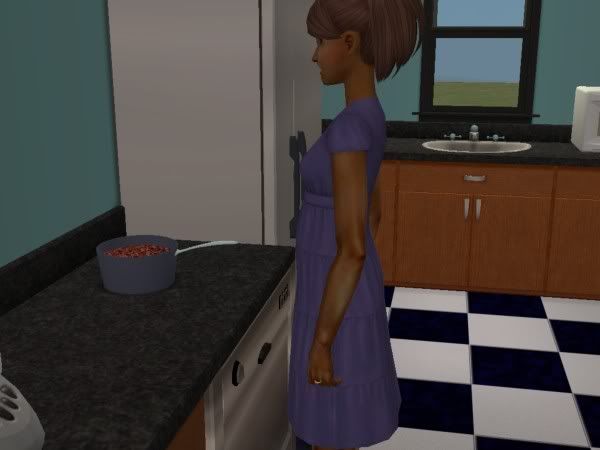 Ross is always interacting with his kids. Andrea, too. I think fortune sims have slight aspects of family to them.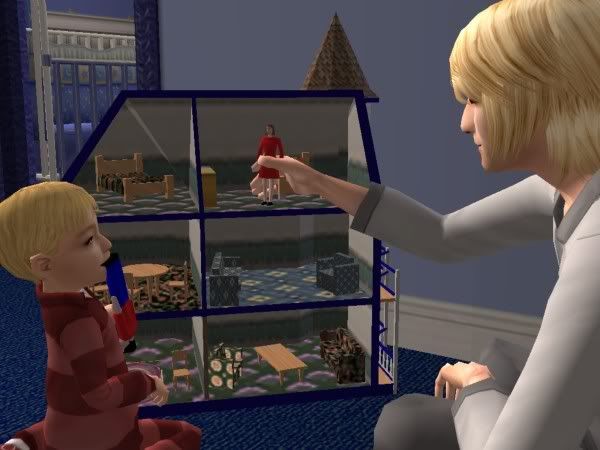 Wait, who's this? Oh, right, it's Bob! I spent a lot of time bouncing back and forth between this generation's houses. I just want all the kids to age the same, since they were all born at the same time.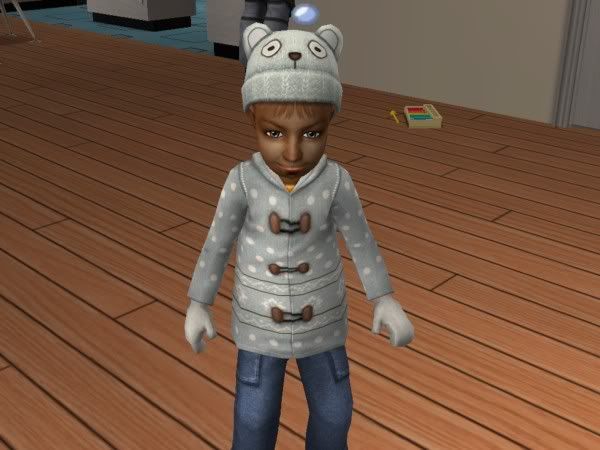 It's Bob's birthday party! Keep an eye on that red-headed kid, he's sneaky.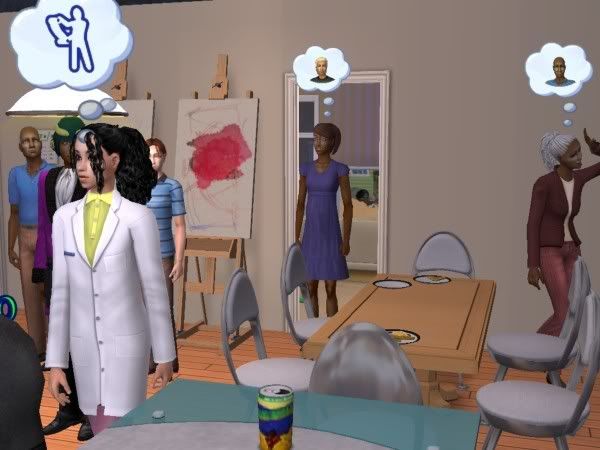 Sometimes I actually buy cake!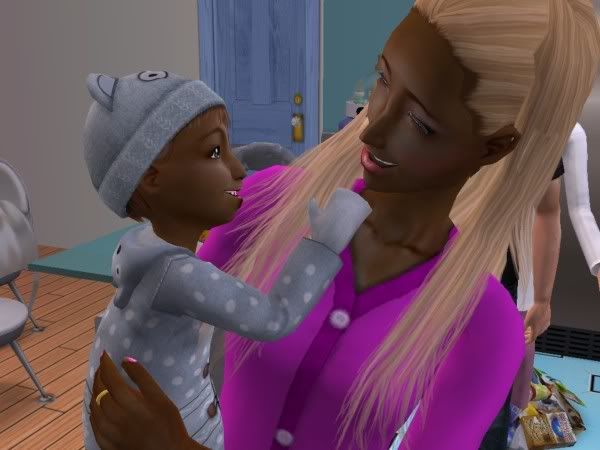 Ooh, he's nice. Is anyone else attracted to this child?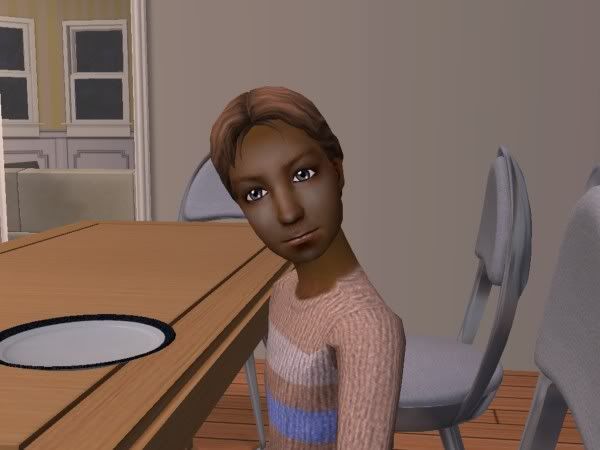 Can I change his name to Fabio?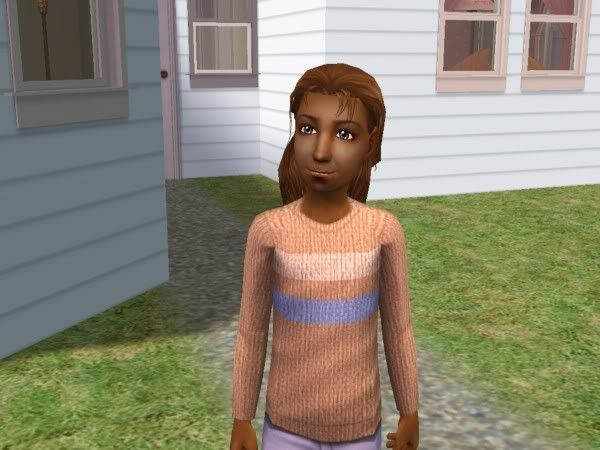 SEE? I noticed him in the bathtub, but not when he slept in Kathleen and Richard's bed. GO AWAY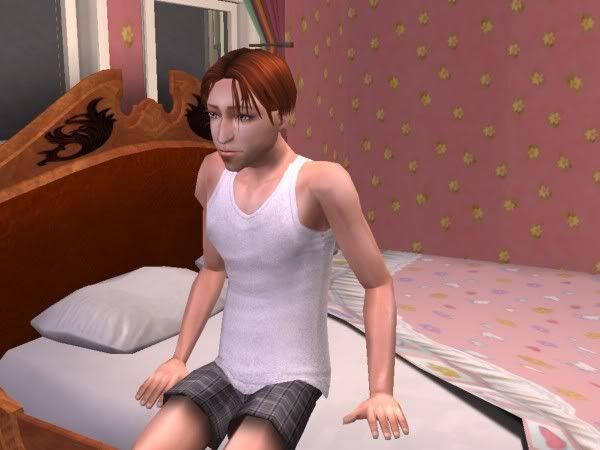 Uh, Jeff's face is lumpy.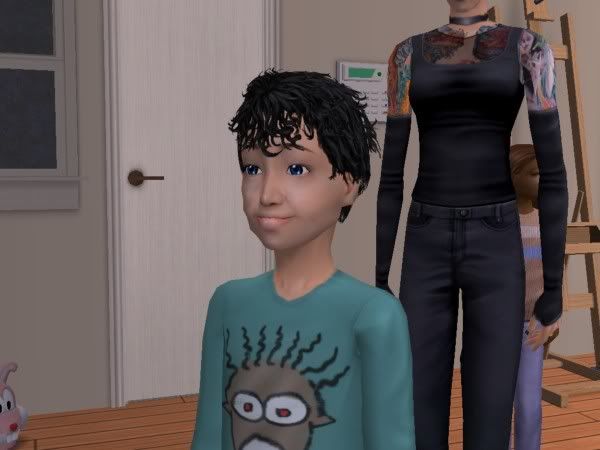 So is Jim's...and he has a different skintone than his brother. One of them must have tats.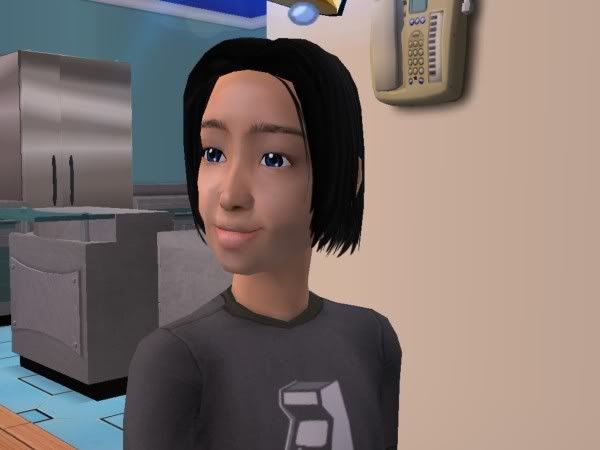 Holy crap, did I jump around enough for you? I think I'm dizzy.
Missing something?
Current Location:

niagara falls

Current Mood:

cold

Current Music:

Thunderstruck THUNDER