Last time, we all got confused as I switched between the two gen 3 households. I haven't yet been able to make a coherent family tree, so I'll try to be less confusing this time around.
So I was experimenting with new skins. These are the @Stefan ones, which I really liked except that the darkest skin was more like dark tan and I don't think old people should have shiny skin. They're old, all their shine was used to make wrinkles :/
And some Greek gods, because they walked by and I think Athena and Dio look fantastic.
I don't like how pregnant sims can go in the pool, but not the hot tub. Is there a real-life reason for that?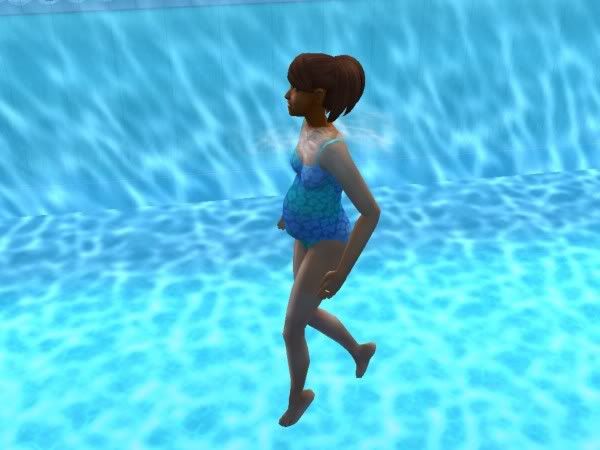 The puppy turned out to be a chihuahua! Look at the colours and pattern on that thing, this litter's gonna be awesome.
After
six
days, Jane had Blue.
Leo was so excited he folded his arm in half and stuck his hand into his jugular. Now
that's
excitment!
Blue has her mother's skin and hair and her father's eyes.
Dale's turn to grow up and show me what the new skins look like on children.
Not bad, but why does he have such a big mouth?
I had a whole queue of commands for Andrea and she went and died on me.
I've never been so sad to see a Pleasantviewer die. Leo didn't die, though. I was upset about that. I wanted them to go on the same day.
Uh, Ross is a good singer. It's weird.
PUPPIES! Just two, and they don't have fun names like the last couple of sets.
MAXIS, FIX THIS BABY THING WHERE THEY DON'T AGE!
PS, I made my own defaults. This is HystericalParoxysm's Idolatry of Flesh...dark.
She did, though. Um, so what you all think? I think she looks like an adult.
Blue is a very happy toddler, always laughter and bubbles. Is Bobby here smiling or grimacing?
You know who has a bad voice?
Jane.
EEEEEEEEeeeeee It's one of the puppies!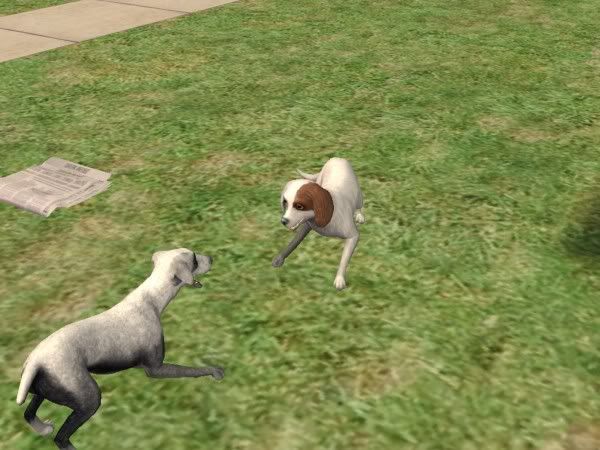 It's the other one! I have no clue which dog I want to keep. I'm kind of a sucker for the floppy-eared one.
With the bathroom door as his witness, Wain springs into teendom.
He's not bad, but that gloss has to come off.
:D Much better. He rolled romance and likes blondes in their undies, NOT in their ballgowns. He's screaming for me to marry him to Dagmar.
Blue grew up at the exact same time.
Her eyebrows are OUT THERE. Like, really out there.
She's kinda cute, what with rocking the cowgirl look and all.
[cute interlude]
[/cute interlude]
He's a romance sim, what do you expect?
5 000? No problem, it's not his money.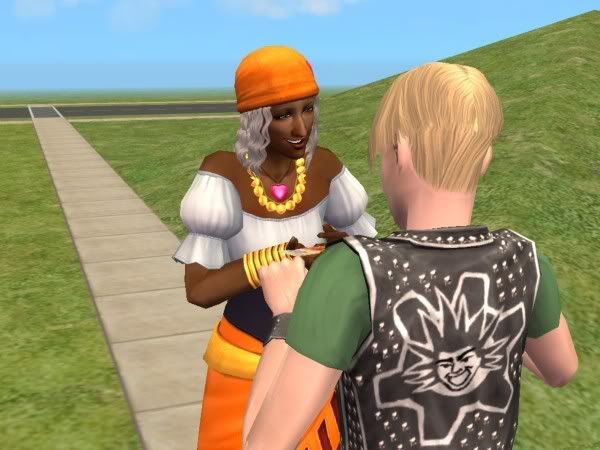 ...
I lost the picture I took of the papergirl with stars around her head. Sorry!
Jane distracted my by becoming chief of staff, that's my excuse.
FINALLY [Hula Zombies are modelling rensim's Circonflex Bole]
Note papergirl, who is still on a date with Wain. Unsurprisingly, it was only an 'ok' date.
Ah, Dale. I don't think anyone has high hopes for you.
WTF Maxis? ONLY ONE HARDCORE PER GENERATION
Much, much better. Dale for heir if Blue doesn't stay cute.
HEIR POLL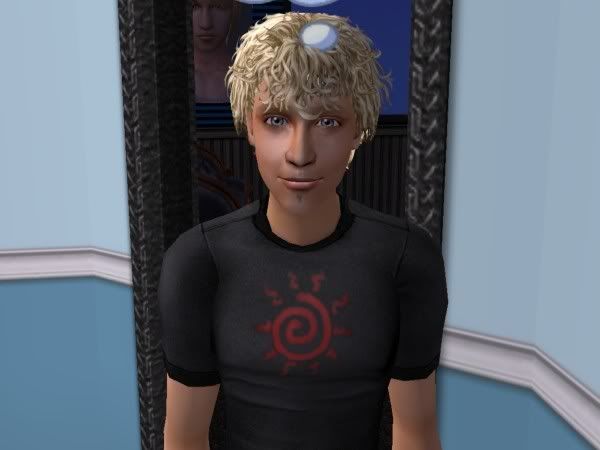 So, Dale's LTW is to have 6 pets reach the top career level. Why not? I've got lots of animals and a couple of platinum soon-to-be-elders, there's plenty of time.
Unfortunately, The dogs are stupid at best.
Second LTW, and now she wants to be Chief of Staff again.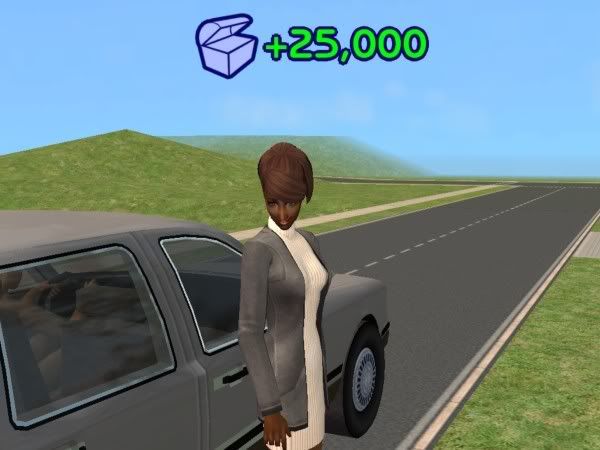 Soooo, there's seams in Enayla's skins? I don't care, I like everything else about it and it's my new default dark.
I can't imagine it's very entertaining learning cooking from a book, even with a lightbulb helmet.
But she does! And it was her last skillpoint, too. I even managed to lock away the want for it.
This is the first time I've seen a skunk spray a pet! Note: skunks growl like my 3.5 year old cat.
I forgot to mention Brutus! I'm running out of puppies to adopt and the strays don't walk by enough. I don't want to have to breed a large dog in. Who knows if the patch actually fixed the mother-copying error.
And Brutus grew up. Happy times!
Plans for generation 6 of the dogs were quickly set in motion.
Now, let's jump to the household where Philippe and Kathleen are producing children with their spouses for my enjoyment.
Ivy is having her third child with her husband, gen 3 middle child Philippe.
She gives birth to Joe, with all of her colouring. Do all babies have webbed hands?
Joe grew up and is probably a clone of his mother. Unfortunately, he has his father's pointy little chin.
Bob grew up. He's not as cute :/ He rolled Romance.
In the meantime, Kathleen became bi. I don't understand how. I think she was getting too friendly with Aphrodite (see Greek Gods entry in the community if you're interested).
And, finally, the twins grew up.
Jeff (Fortune)
and Jim. (Family)
I'm having so much fun with this family. Let's never stop.
Missing something?