I'm trying for drama. I can't write my legacies into stories no matter how hard I try because I'm usually too busy fulfilling wants and feeding the sims to do anything else. So, I present you with something new and different for me, but nothing you all haven't read before.
Cassandra Goth was so happy on the night of her wedding to Don Lothario. He had agreed to everything: move in with her family, take her last name to keep it going strong and proud, and settle down and have children. It really was the best, most glorious day of her life.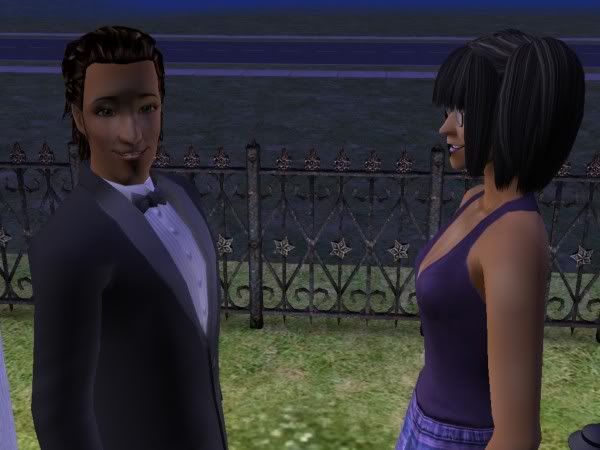 Don, though, had different plans. The Caliente sisters were part of those plans, and so was his hot tub...and maybe his bed, if time allowed.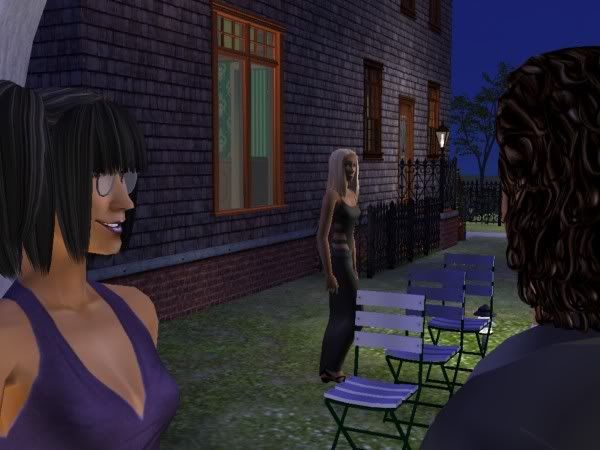 In the presence of friends and family, they recited their vows...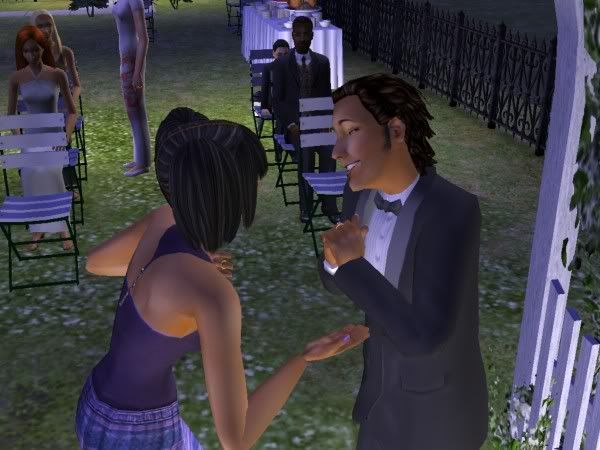 ...exchanged rings...(Don could barely believe how perfectly he'd played his cards this time)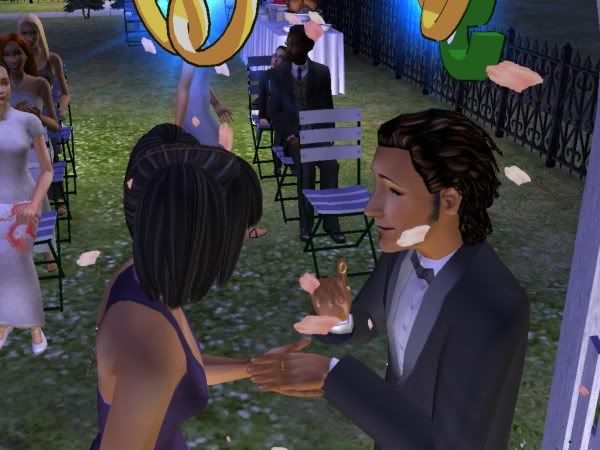 ...and shared their first kiss as Mrs and Mr Cassandra Goth. The family's maid, Kaylynn Langerak, was behaving oddly. Cassandra didn't recognize the look in the other woman's eyes.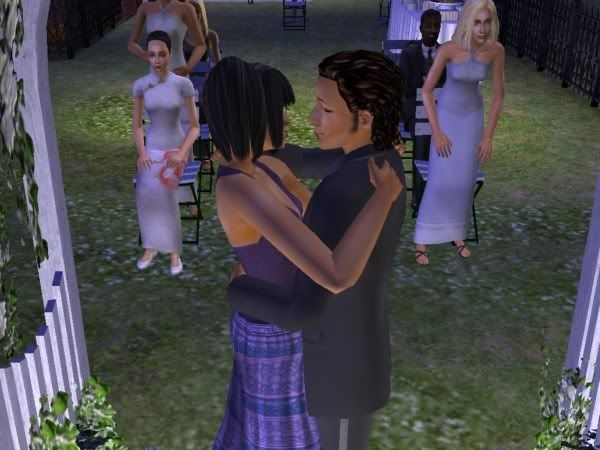 Mortimer, Cassandra's father, was overcome with joy and the general lovey-dovey atmosphere and shortly after the ceremony proposed to short-time love Dina Caliente. She happily accepted and the couple were wed 20 minutes later, under the same arch at the same party.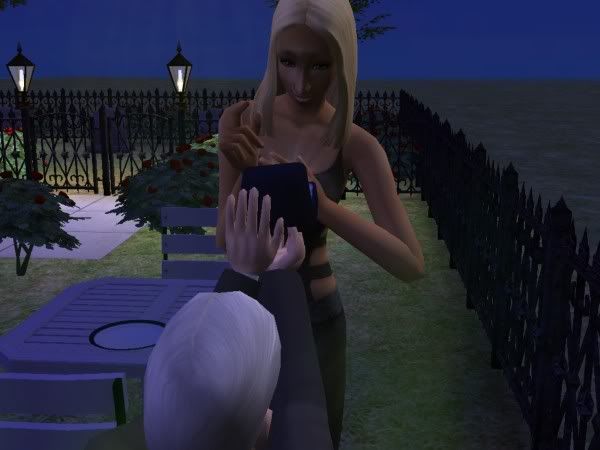 It wasn't long before Dina and Don were breaking their vows to fool around while Cassandra was sleeping (after a rousing post-honeymoon match in the sheets) and Mortimer (after his own rousing post-vow rumble with Dina) was looking for Bella on the fourth floor.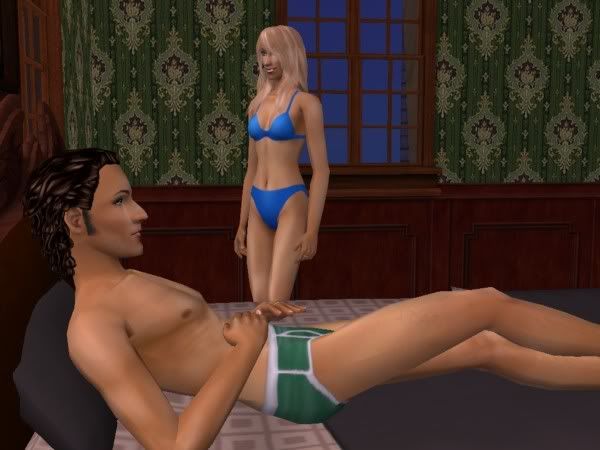 Their chemistry was natural.
Alexander Goth, Cassandra's little brother, had been raised motherless (except for Cass's half-hearted attempts to care for him) and never knew who to go to for praise, advice, or entertainment. He was a very confused, lonely, smart, little boy. His birthday was coming up, and all he wanted was a surgical dummy of his own.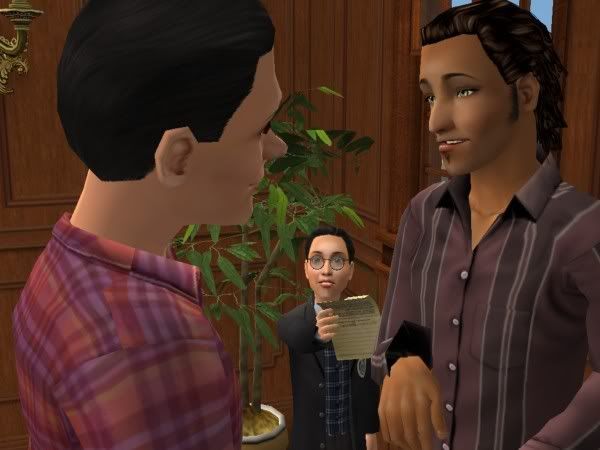 Cassandra couldn't figure it out. Why was she so sick all of a sudden? She barely had time to think before Dina shoved her out of the way to soil the toilet with vomit of her own. Cass sighed, and picked up the brush again. Had to have been something from the buffet her father prepared. She must remember to talk to him again about food safety.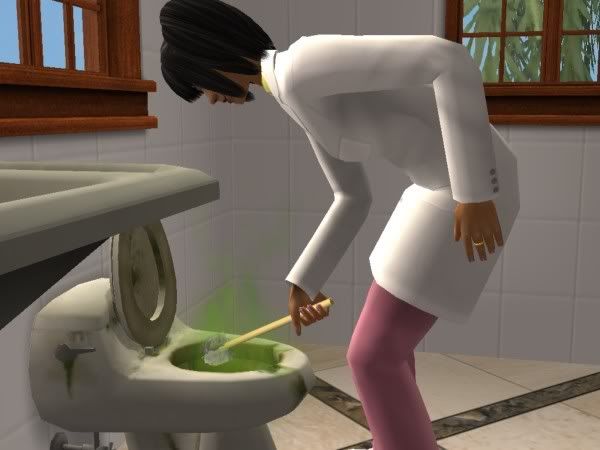 Don was living the high life in a big mansion he would no doubt inherit along with his new wife. The family's maid just happened to be his long-time girlfriend Kay. She seemed more uptight than usual lately, which he rightly assumed was his new married status, but he warmed her up enough for a roll in the hay.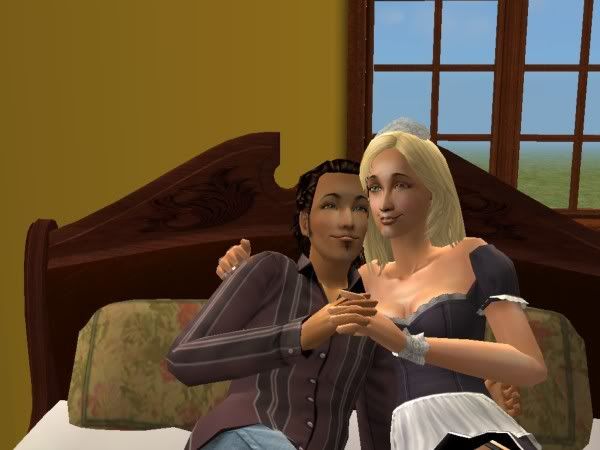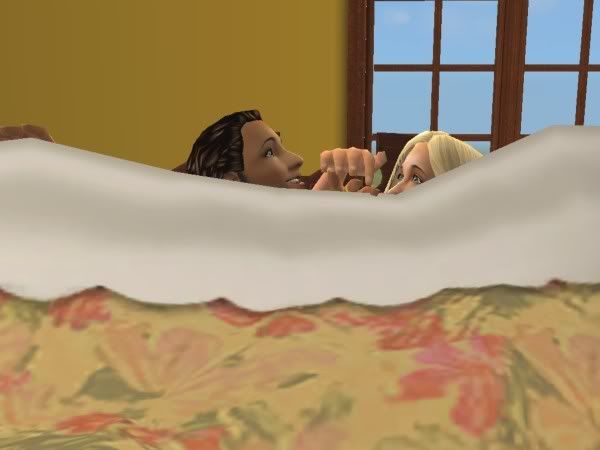 He was truly living every man's dream.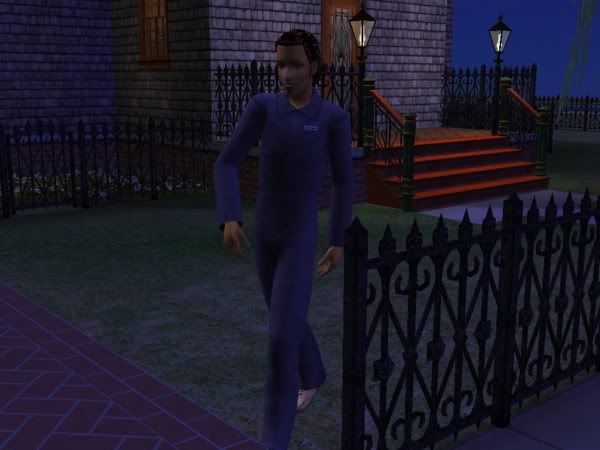 ...
Kaylynn was upset. Don had promised everything and the stars to her. That was how he'd said it: "Kay, I love you. I want to keep you forever, if I have to give you the stars themselves to keep you in my life."
Instead, she found herself paid off. Not with cash. No. With his house. He'd sold everything but the paint and tile and left her at that. She had just over §4000 to furnish the place with and she was now jobless.
How could she clean anyone's house now that everyone in town knew? They were always gossiping about her, standing on her (DON'S) lawn and sniggering.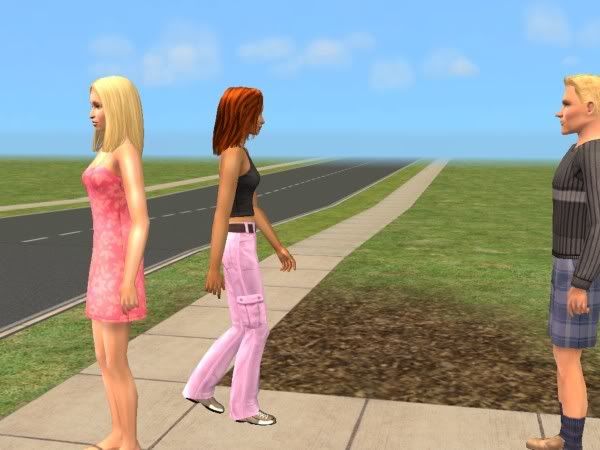 Obviously, though, there was disagreement about details.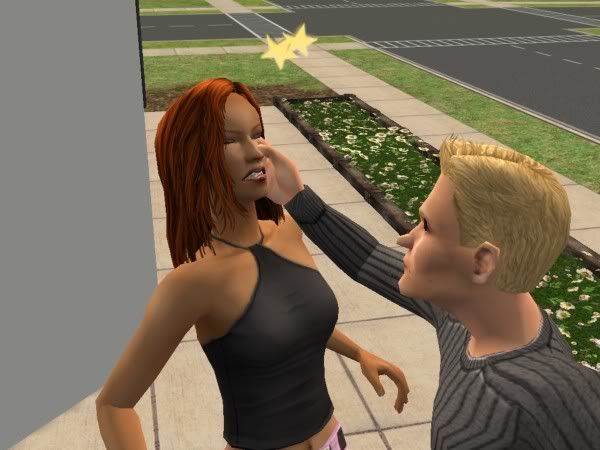 Kaylynn was bored. She spent the first night in her new (DON'S OLD) house writing in her diary about all the things she wished she had. Everything was wrong.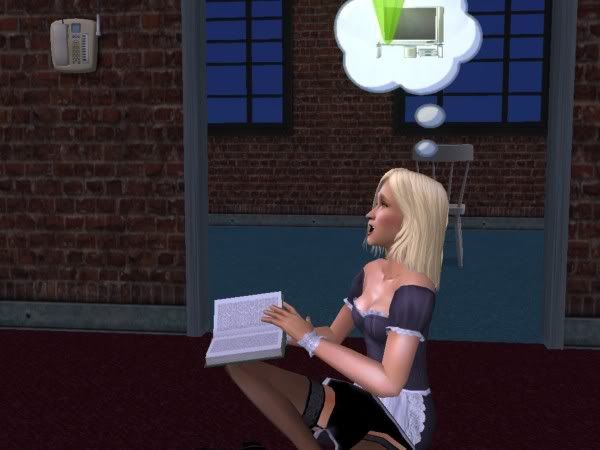 This wasn't how she wanted to start her life. Alone wasn't in the plans. Her whole life, she'd just wanted to have a family of her own. Children of her own. God, a
maid
of her own. Always the bridesmaid, they say. Ugh, his wedding. Why had she attended?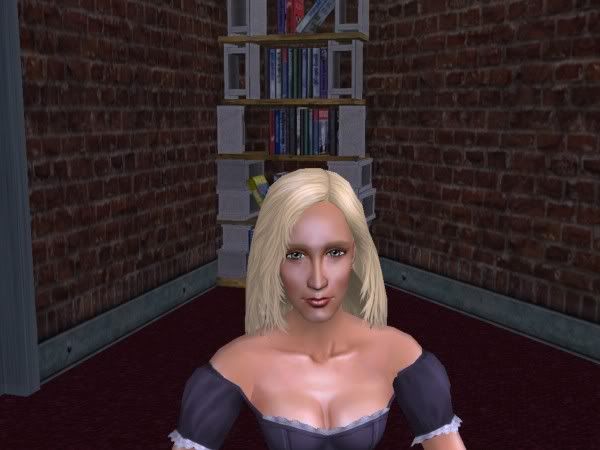 She was just coming home from work one day a few months later when she felt a pain in her stomach. Reeling, she realized what it meant. She called work and took maternity leave.
She also called an old flame over. Girl's gotta do what she can when she can, right? Daniel Pleasant was one of her clients at Pleasantview (no relation) Cleaning Co.
He was also married and had twin teenage daughters. Little firecrackers, those girls.
Don called to check up on things. Kaylynn glaced at Daniel. She mouthed "I love you" and he grinned and left. Men were so simple.
"Hey, doll, how's the old pad?"
"Don, you ass, I look like I've swallowed a soccer ball!"
"The phrase is 'beach ball', KayKay, and you should probably use my home gym to fix that."
"You
sold it
, Donovan, or did you forget that you looted the place before moving in with Miss Rich Bitch across town?"
"Is that what this is about? You knew I was engaged to her. You knew, meaning that you were OK with it."
"You don't understand, do you? You know what, Don? Fuck. You."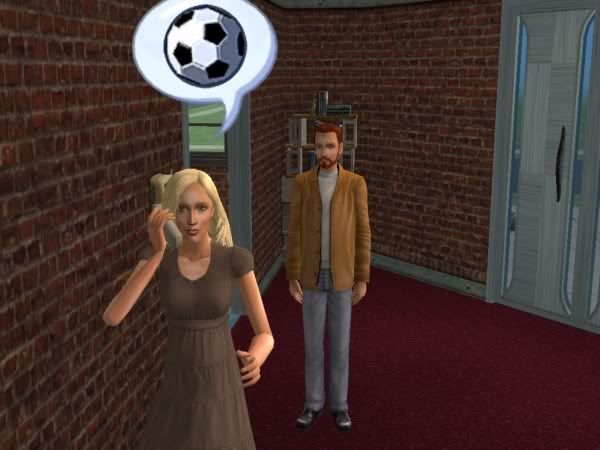 *click*
Where was Daniel now?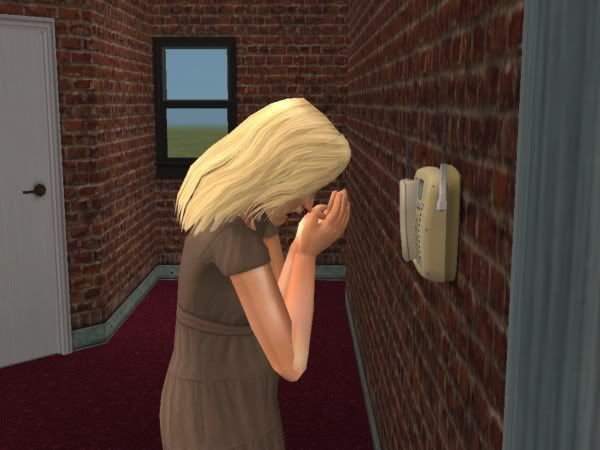 Once again, she turned to her diary.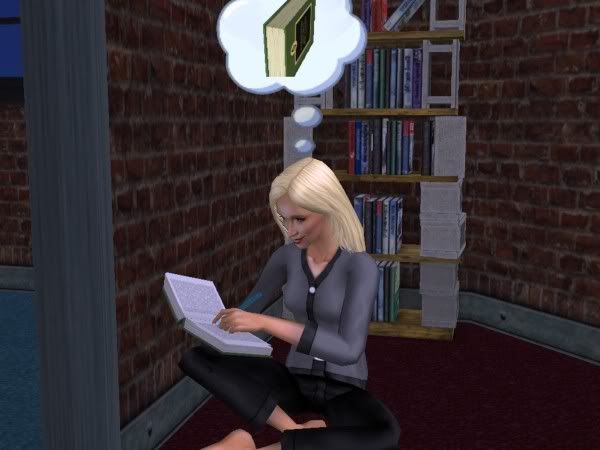 She didn't even need the TV now, her life was a soap opera all on its own.
A few weeks later, on her way to do the gardening (Don Lothario had a green thumb. She could barely keep the plants alive), a man walked by. Redheaded, craggy features, dour look. He looked good. The kind of good that didn't know it was good. The kind of good that didn't
expect
to be good.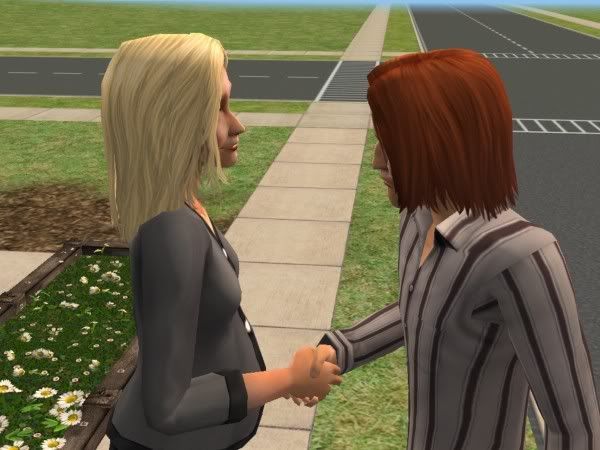 Things had a way of sneaking up on Kaylynn, including the birth of her first child.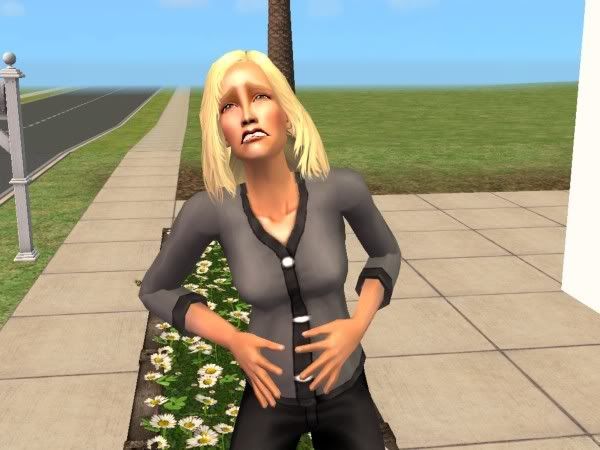 Krystal. There was no doubt she would look like her father.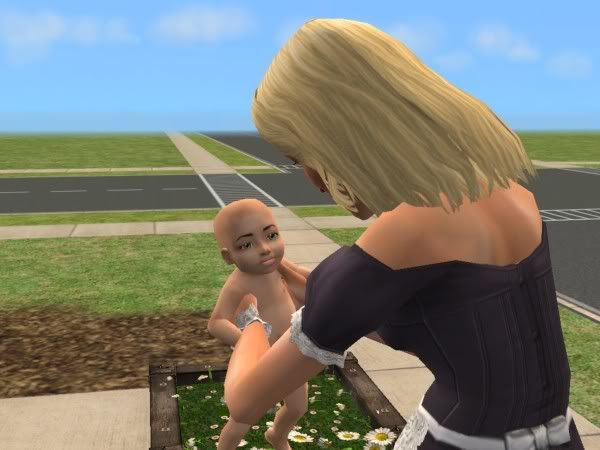 Despite the overwhelming desire and inherent distrust of the nanny, Kaylynn had to work. Sure, she could get paid maternity leave, but she would never get promoted by staying at home. Krystal would never remember the desertion.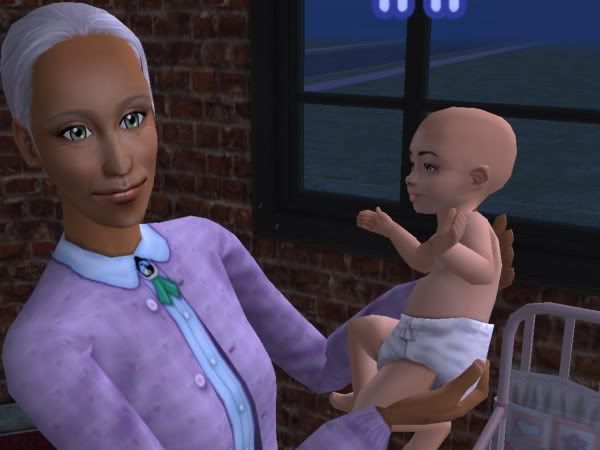 Sure enough, Kaylynn was promoted on her first day back. To celebrate, she tipped the nanny §10 (with an apology for not being more) and bought a changing table. The rest she saved.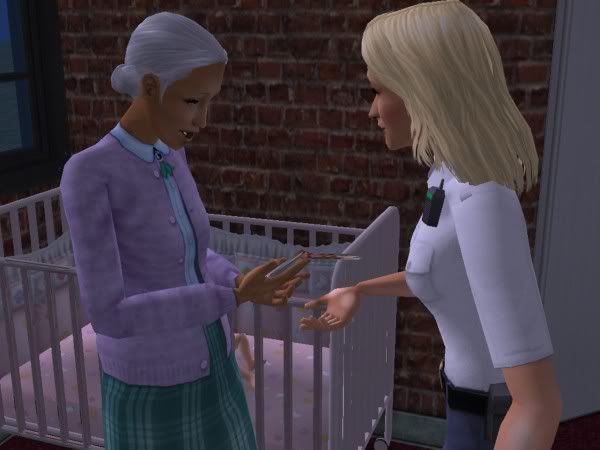 ...
Production notes
-I had the full intention of a different story, but Don didn't leave Cass at the altar! I have yet to see anyone get left at the altar. So, I did what I could with what I got.
-PIMP STRUT. Don was actually glitched to pimp-strut forever after I cancelled his autonomous action to kiss Cassandra right when his carpool came. I hope it doesn't clear up, because I love it.
-I have three pictures that I just couldn't fit into the story
1) Don eating chips right before the wedding. I laughed harder at this than his pimp strut.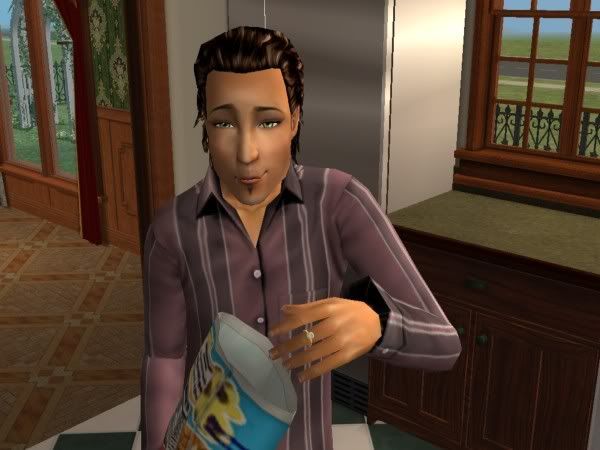 2) MoGo, Don, and Dina went on the honeymoon together (Cass didn't go at all). Uh, I think Mortimer and Dina are doing it wrong. Or are they doing it right? I have no idea.
3) Komei. Yeah, he's stretching, but I thought he was going to drop a load in his pants and it made me laugh very loudly.
-Let me know what you think! Should I bother continuing? I've never tried writing something like this before and went with what I knew best: the Pleasantview families. They're my favourite, and I've looked extensively through their memories, family trees, and relationships. It's fascinating what Maxis gives us.
And now for something completely different...