Last time, Wain grew up into some hot girly pants, Dale grew up into pirate gear and captained the HSS Bathtub, gen3 of the dogs finally died, and Dale put the moves on Ivy Copur to get a start on generation 5.


In order, these dogs are Queenie and Princess. It's their birthday and I'm really excited for the black one to grow up.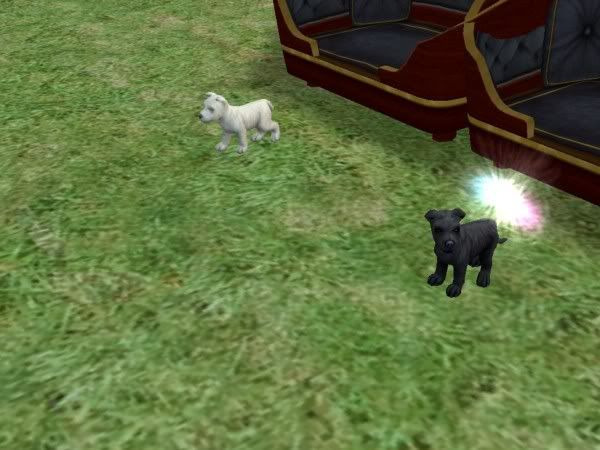 Here's Queenie. She's not bad. Shaggy fur and floppy ears is cute, but she's all white :/



Princess, though, stole the show. Meet the doggy heir.



Pregnant on the first try!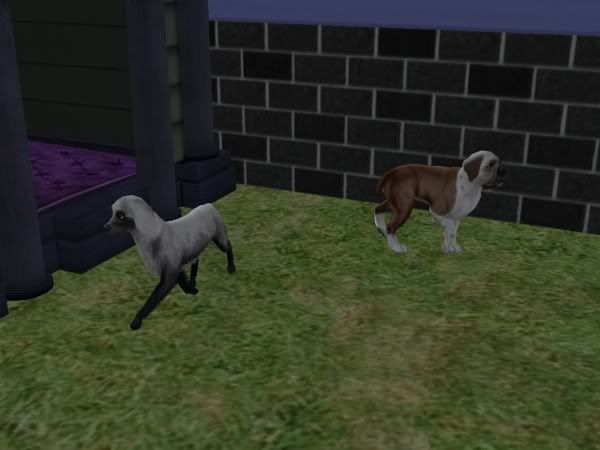 What's this? Catch in the graveyard? Could it be?



This took a while to get to. Is she hard to get for anyone else? Also, notice anything new?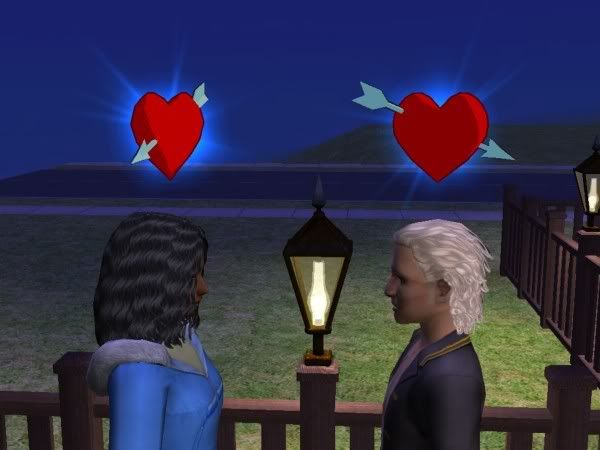 And...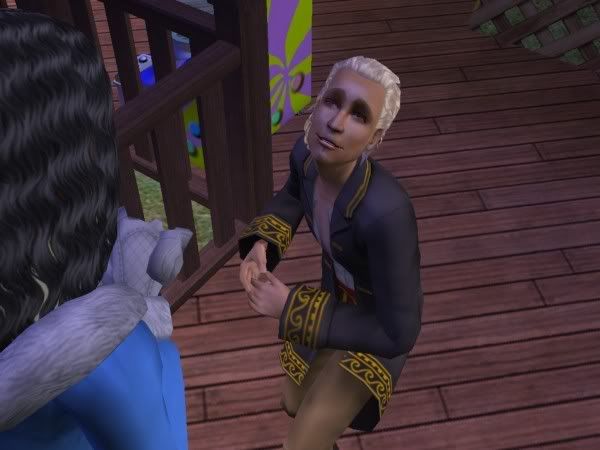 Yes, popped the question!



For those of you that haven't picked up on the hints yet, here's your last one.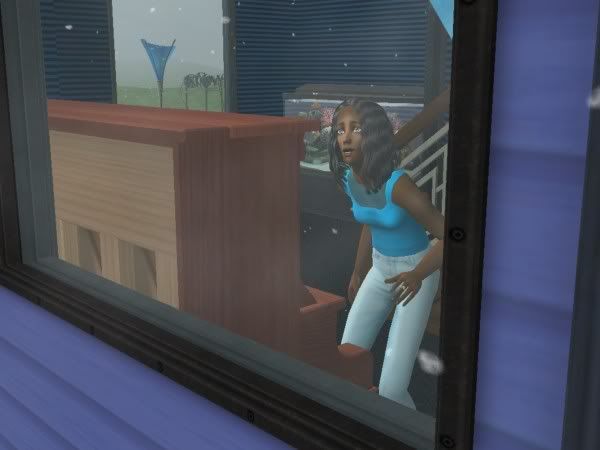 Wain and Blue are severely addicted to the hot tub. I'll start worrying when the snow's a foot deep.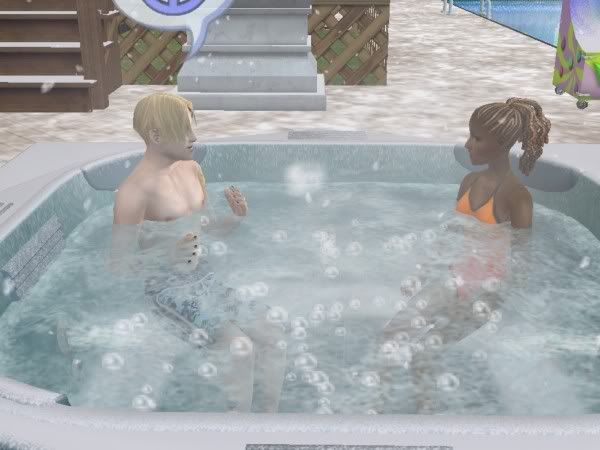 Ivy Copur, Knowledge, Criminal Mastermind. Looks like a black Dagmar Bertino.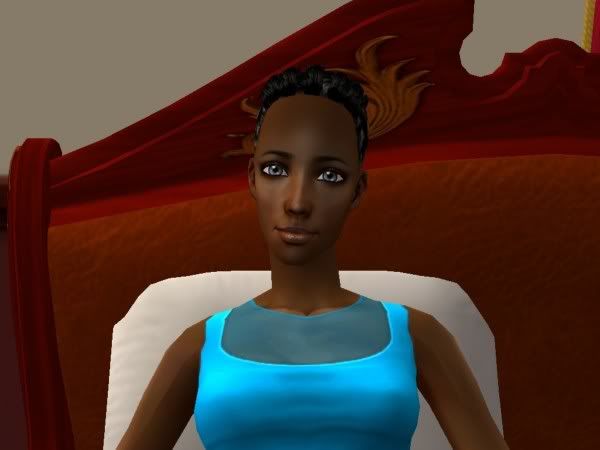 Hey, I don't remember buying that blanket-thing.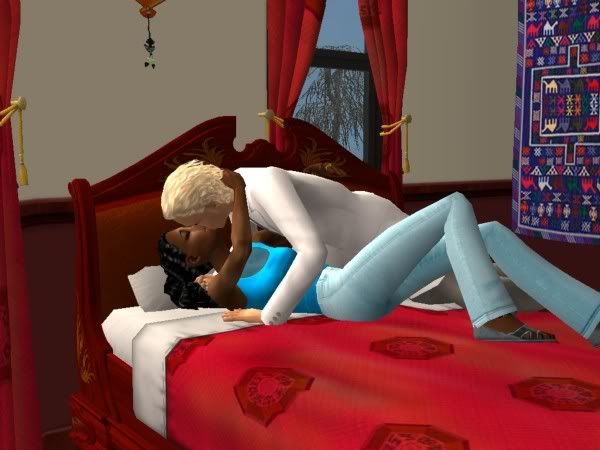 Also pregnant on the first try :D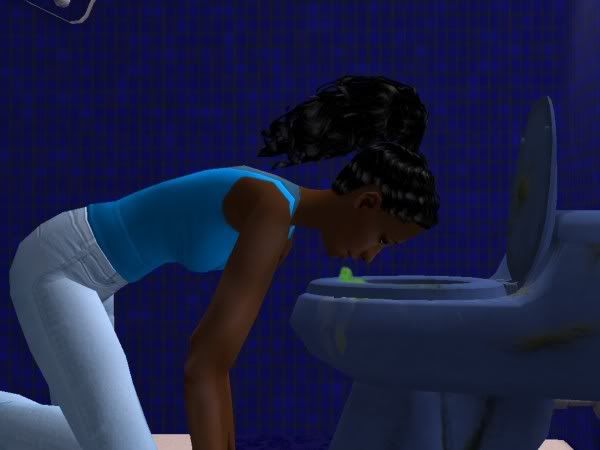 This is their quiet living room and lightbulb helmet underwear marriage.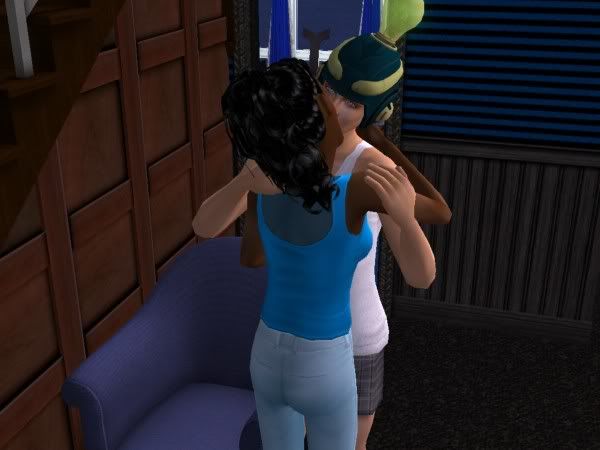 Time again for Blue Steele's birthday.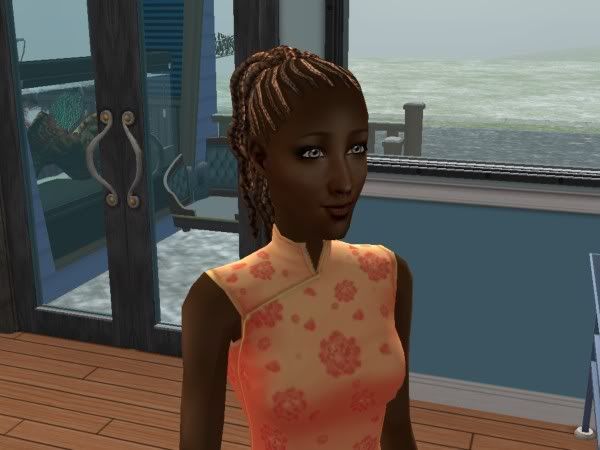 Purpose: Wain's spine piercings. Still kinda really freaked out by them.



I caved and downloaded the afro. It's cute, but I accidentally set it as her underwear, too.



PUPPIES!!



POP! I tombstoned her in. Stupid Seasons and its noncompatibility with lotfullofsims.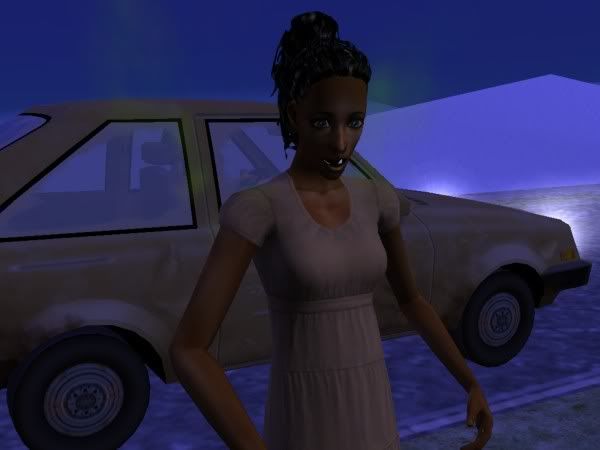 So, goodbye Wain and Blue.



and hello Stephen Gothier into Blue's life (and loins)



Gothier's loaded with skills. If you can meet him early in a legacy, I totally recommend breeding him in. He throws nice-looking girls, but who cares if you catch him early? Even better, make him a lantsim and then spore an offspring: Instant slave with awesome skills!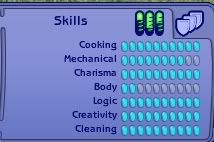 I'm sure this is old news to everyone who has Season and Pets but I CAN BARELY SEE MY DOGS AND THE PUPPIES ARE GONE! Heehee, deep snow. Unfortunatly, I may have to delete tombstones to prevent lag because of the heavy load of snow.



I see the penguin every time the snow is deep. He's not as great as everyone made him out to be.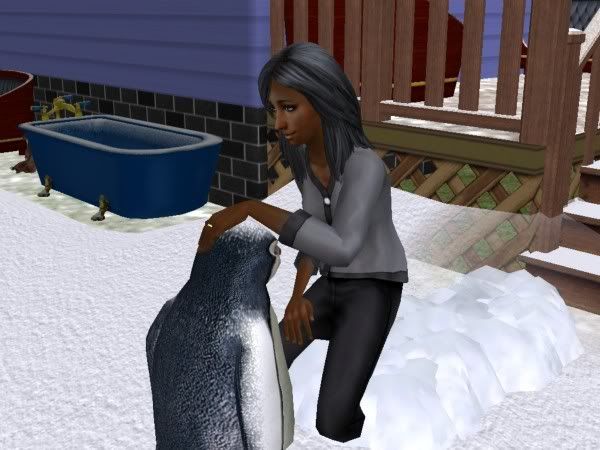 I was wondering why this random, uninvited man was in the graveyard in his bathing suit. Turns out he's the gardener. Outerwear: you're doing it wrong.
I was wondering how he got into his bathing suit in the first place. He shortcuts through the pool on his way to the cemetery. BUH?!



The whole family prefers this bathtub over the expensive showerbath on the first floor and the almost-as-expensive shower stall upstairs in the master suite. Even the wolf finds it weird.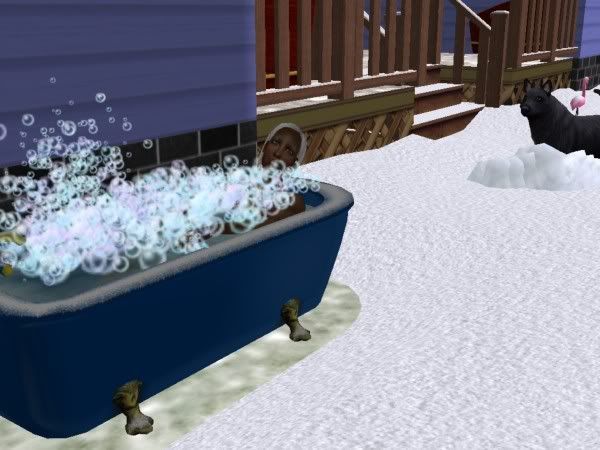 I'm going to regret bringing Ivy in.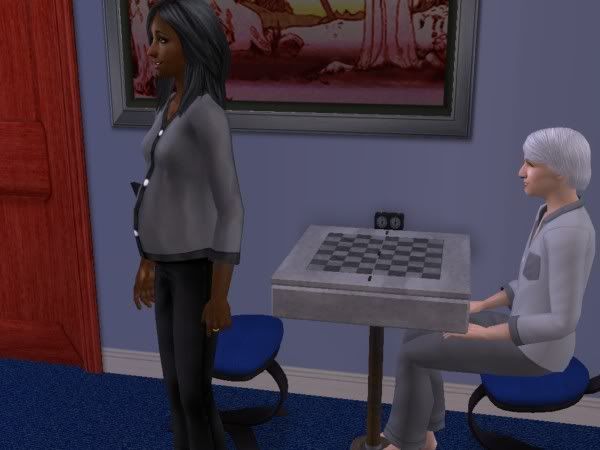 Thanks, Dagmar, but Wain moved out like, a year ago.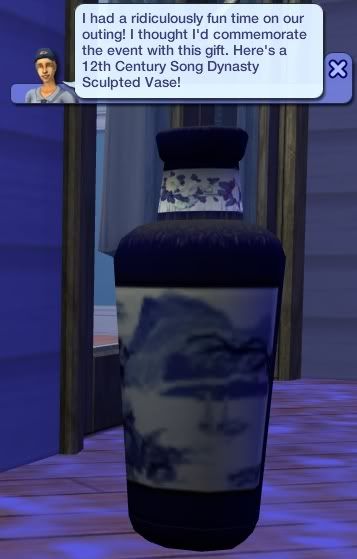 *sigh*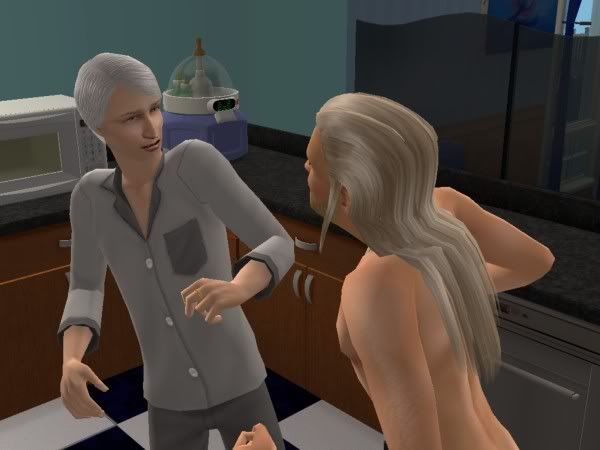 Uh, now for more pictures of a birth than you ever wanted.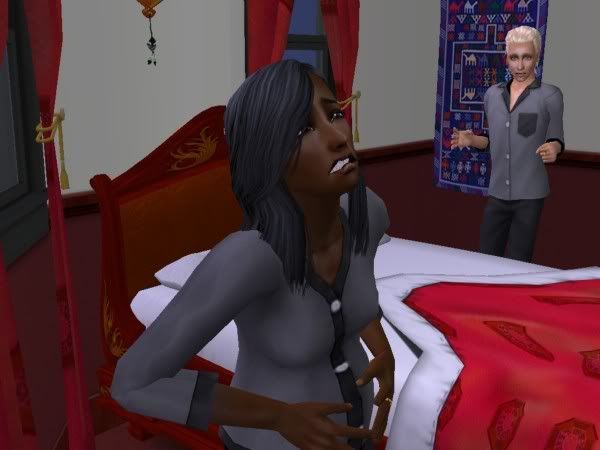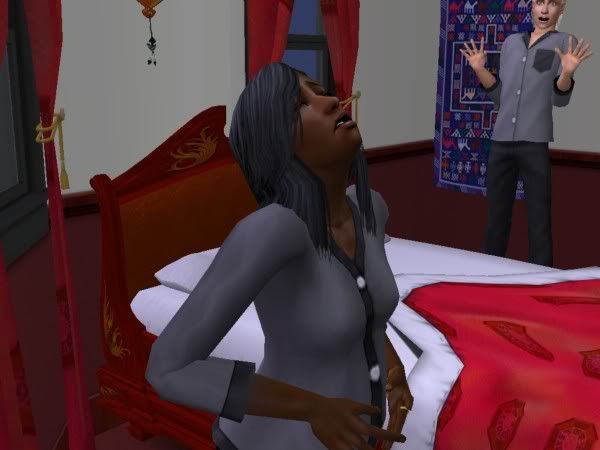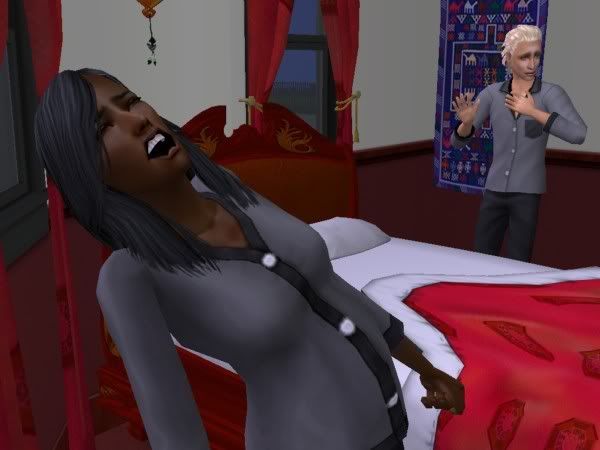 I don't remember why I took that many, but here's a baby! Clark has his father's skin, but his mother's hair and eyes. Also, let's add this picture to Dale's growing album of "Pictures in Which I Look Intoxicated".



This one, too. Wain's here! Actually, a ton of spares were over for this birth. The bedroom had 6 people in it.



I find it intriguing that the cars don't get snow on them. At all.



It was a rather generic snowman, in case you wanted to see.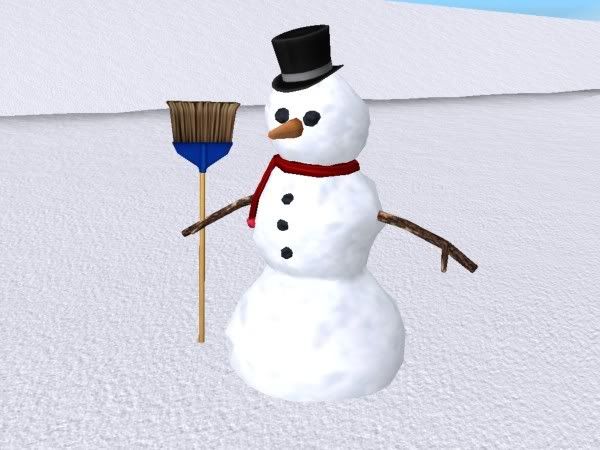 Oh, this is exciting! I love when the animals grow up.
How can you not love this dog?? I do.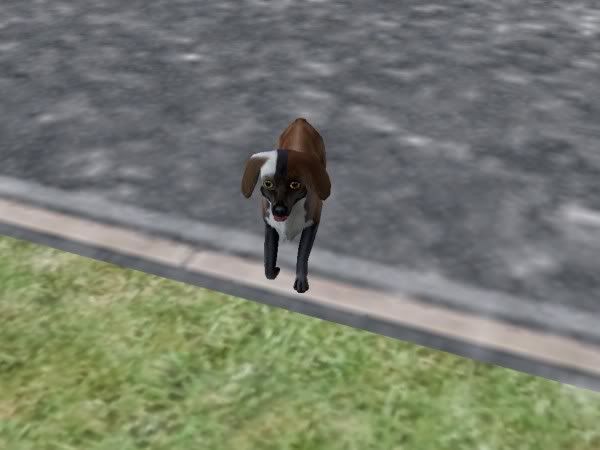 OK, now how about her sister?



Adonis, the puppies' father, was the sixth dog promoted to the top of his career (showbiz, he's a star). I know because Dale's plumbob is a nice shade of platinum (uh, but his LTW didn't change...). So far, the only regular grave on the lot will be my selfsim's, which means I am doomed to a life of major fail.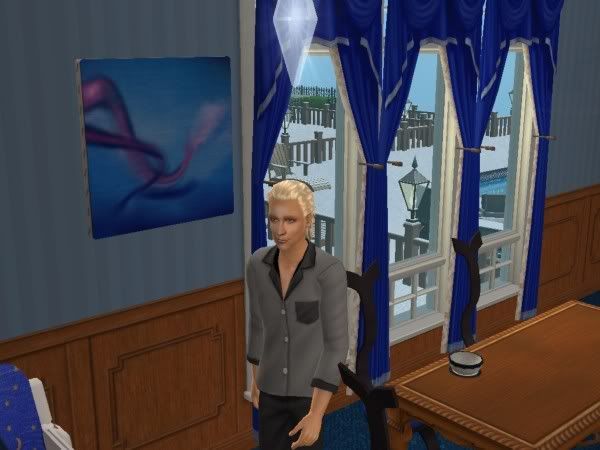 He really is a star, don't you think?



So. All the dogs came to the howling party except the puppies' mother (Princess, gen 6 heir), who was at work. There's a lot of cute doggies on this lot. Including Belle, who peed on the reaper. I have the game exited as I type this, so let's see how many of the dogs' names I remember. On the far left there's Brutus (gen 5 spouse), who you might remember from last update, then Bobby (gen 4 heir) consulting with Grim, Arachne's (gen 7) the spotty one, Belle's (gen 4 spouse) peeing on Grim, then from top to bottom on the right there's Ariadne (gen 7), Adonis (gen 6 spouse), and Maggie (gen 5 heir). I get them all mixed up all the time.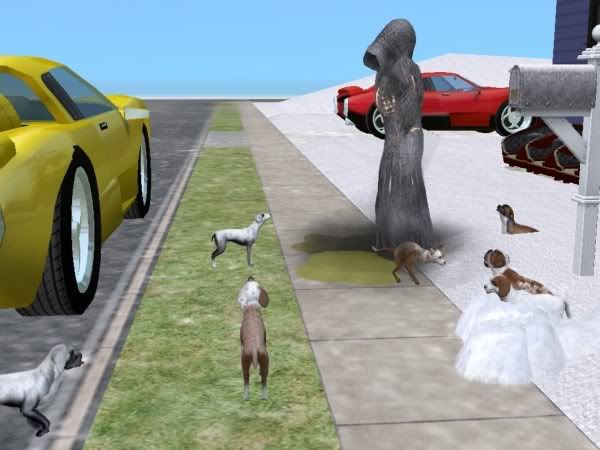 A couple days pass and Belle dies with the accompanying howling party. That's her great-granddaughters Ariadne and Arachne.


I recommend Breed Standard to anyone who has Pets, it's great fun to see what you get. First, though, get the blank Pets template, or you'll end up with really bad variety.

This must be the male version of Andrea Hogan. No wonder Philippe looks weird.



I think this generation is my only sims babies ever to grow up right at 6pm.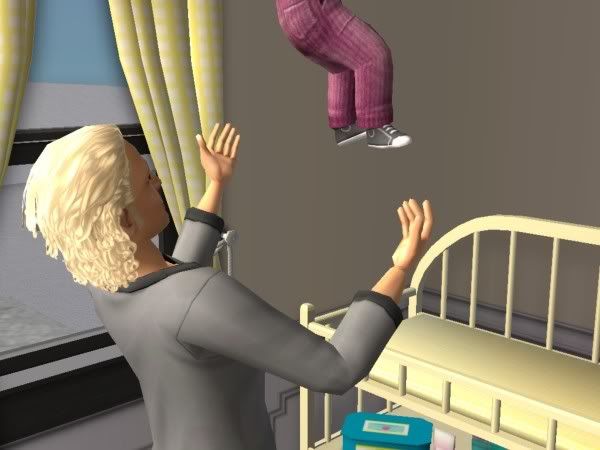 Uh, hmm. Clingy much, Clark?



He fears the fish dying. Obviously, he's new: the animals in this house die all the time. Especially the fish.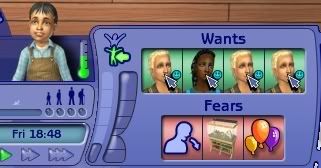 Here he is, the wall-eyed little monster. Take note of his ears.



See Ivy's ears. Yes, some sims have sticky-outie ears *frown* Oh well, such is the spice of life.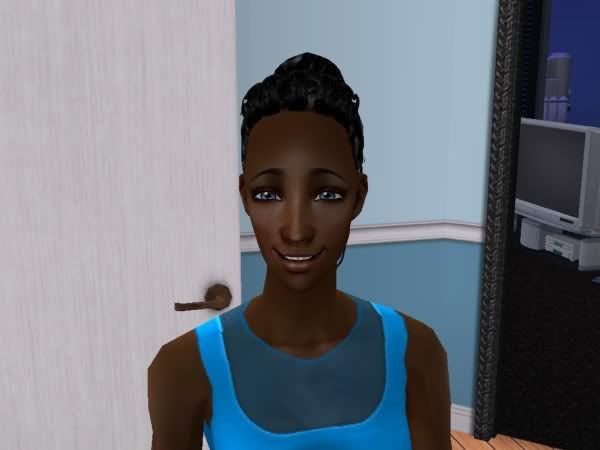 At least he's quiet.



The portraits were finished. Completely done by Ivy, since she wanted to max out her creativity.



Your bonus picture this update is Arachne! If anyone can tell me which drugs she's on and where I can get a hold of them (FOR A FRIEND), please let me know.
I can't contain myself while looking at this picture. It's too great!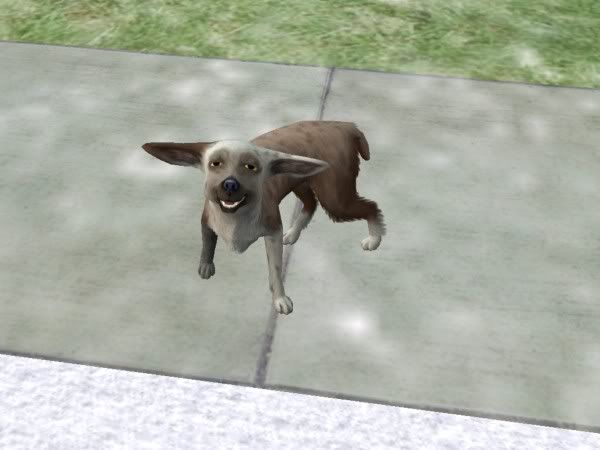 Yes, so, this may be the last update for a long time. I'm trying to update everything one last time before I go. I still have a founder challenge bandwagon to catch and another chapter or two of Pleasantview. When I come back, expect massive updating. Hey, at least I'm leaving you with a cracked-out Chihuahua cross, right?
Missing something?
Current Music:

George Harrison-Not Guilty