Last time, we all raved over the gen 7 puppies growing up, the family discovered snow, it was found that the gardener shortcuts through the pool in the dead of winter to get to the cemetery's shrubbery, and the update ended with a suspiciously stoned-looking Arachne.


Let's start off in the Gen4 spare household. You may remember that Blue Steele married Stephen Gothier. Well, if you don't then too bad. I'm not here to retype past updates.
Anyway, knocked up.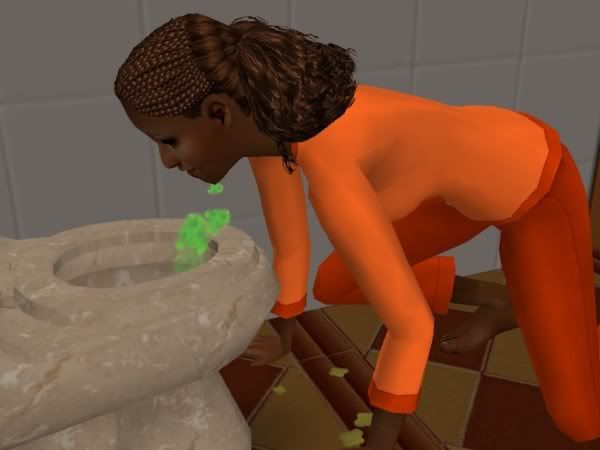 Knocked up for sure.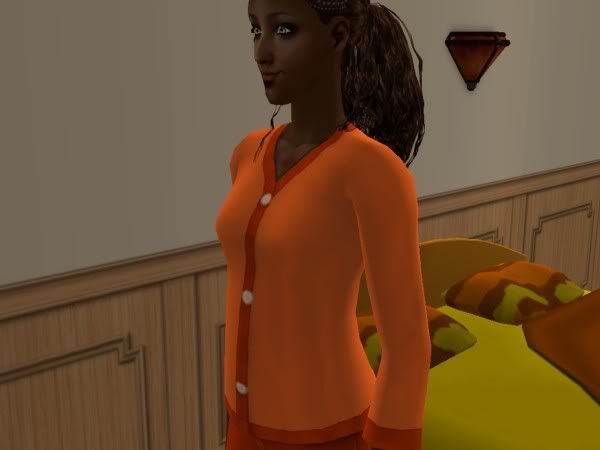 Back to the main lot.
This is one of those 1-3 Nice point families.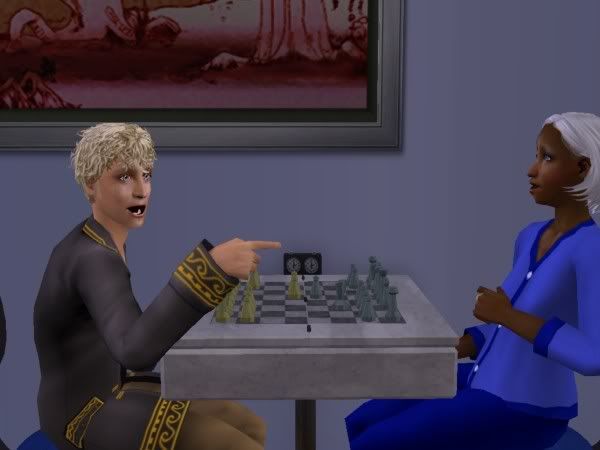 Don't be fooled, she does it, too.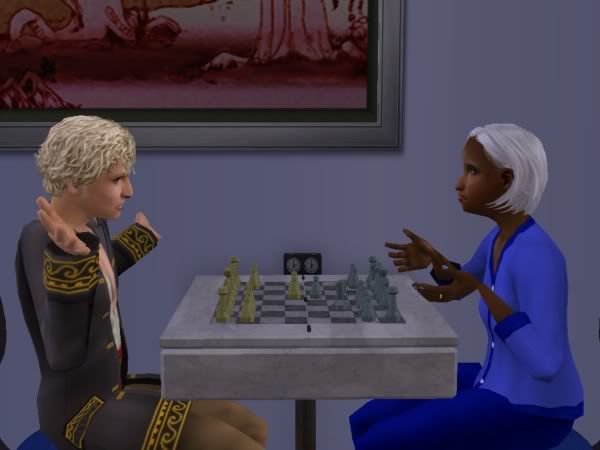 Clark had to grow up fast, because I didn't like him as a toddler.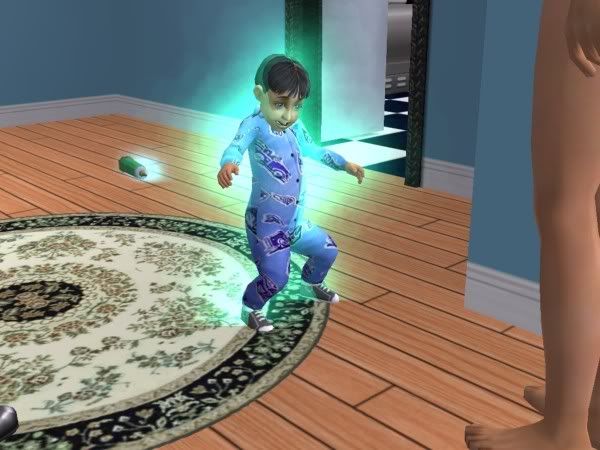 He's not bad.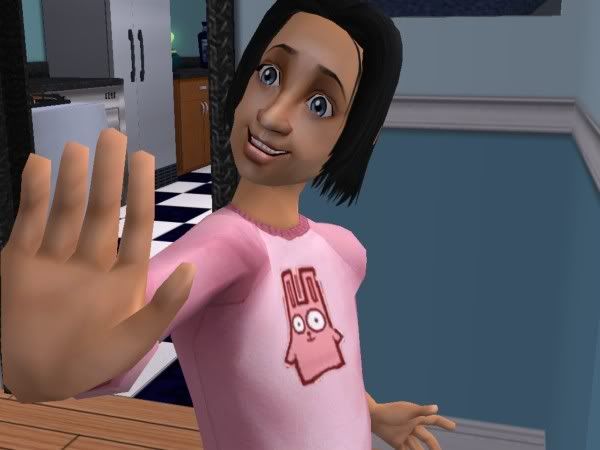 Ivy got demoted from Getaway Driver due to a chance card. DON'T TAKE THE SURFACE STREETS!



I think she took it kind of badly. I'm not joking that she rolled this right away.



What's up, Ivy?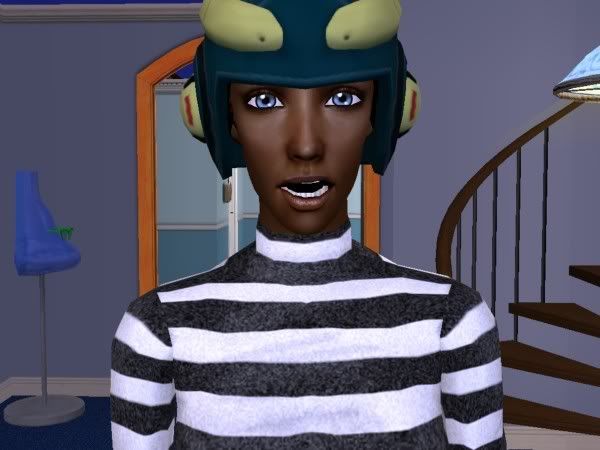 Ah, good, now you can stay home from work, but please don't get hit by lightning.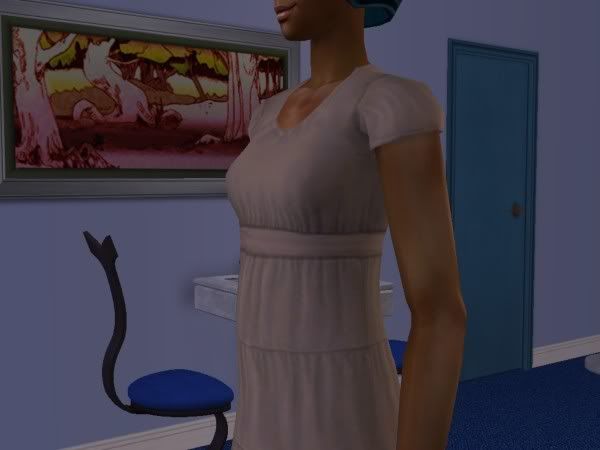 Doggie earmuffs! What else, in this house? What do you think of his nose? It's kinda...lumpy.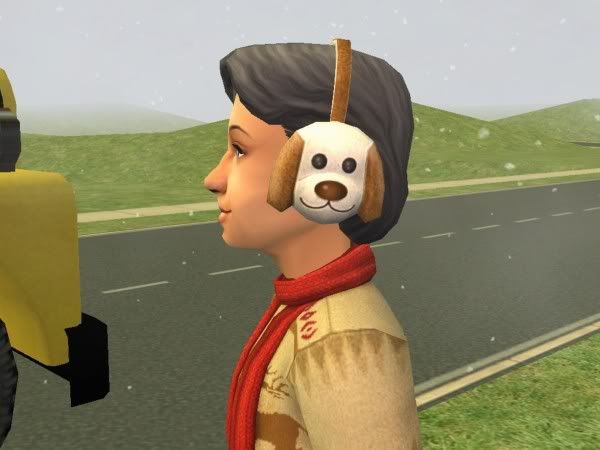 Even though there's a ...dollar sign? above his head, Dale just reached the top of his career. Also, one more picture for the Pictures in Which I Look Drunk or High album.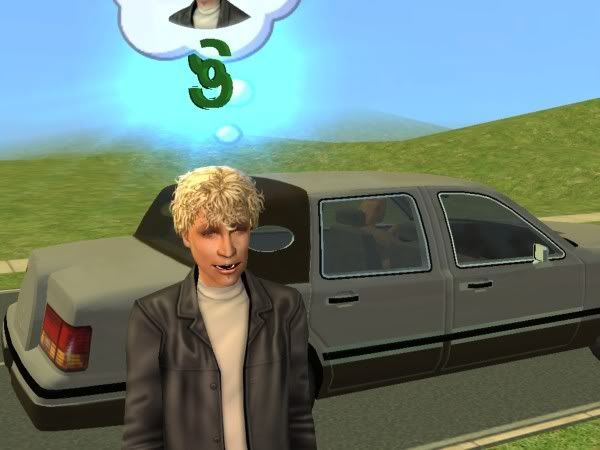 He's one of my favourite sims. I think he's just adorable. Look how cute he is, all Mad-Scientisty and stuff.



You know why Brandi LeT thinks this?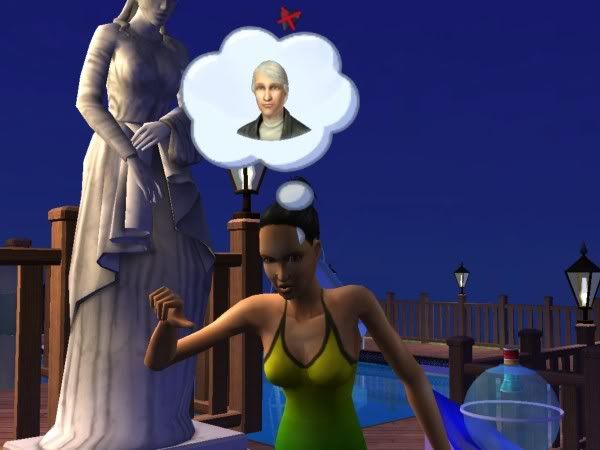 BECAUSE ROSS IS ALWAYS SKINNY DIPPING! Betcha this gets through Photobucket. I may edit the photo to highlight his Ken-doll non-penis and the fact that you can't see swimshorts.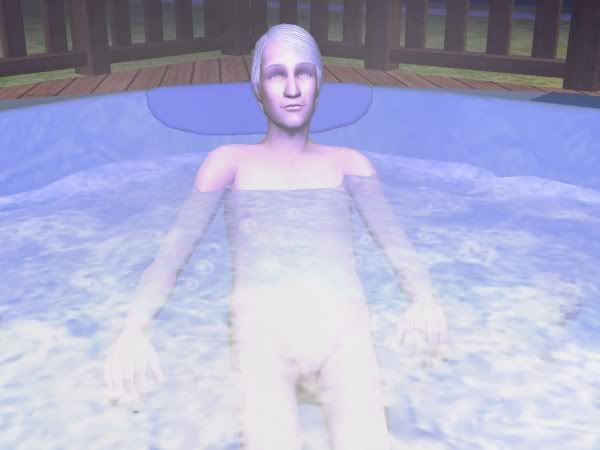 And now for some manic-depressive video gaming brought to you by Ross and the letter I'LL KILL YOU DEMON SPAWN



Incidentally, this is how my boyfriend and I look while playing Super Smash Brothers Melée.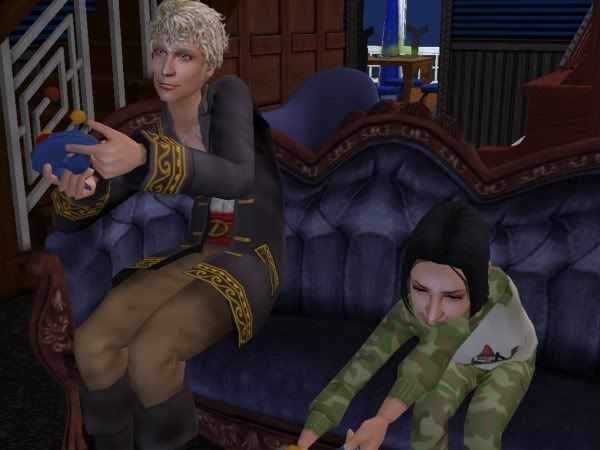 Look at Clark. He doesn't care that his dad's screaming at him. It's all good.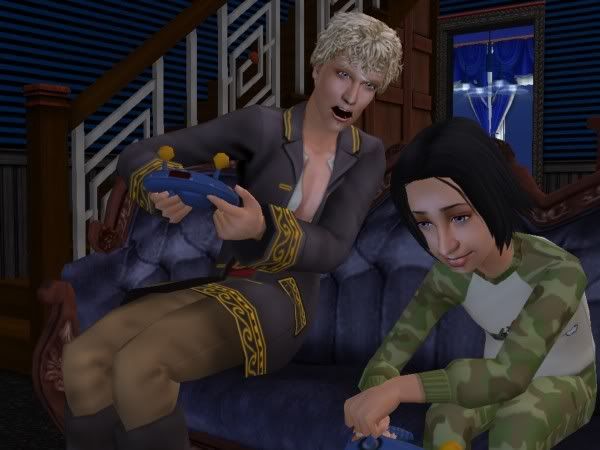 I guess Clark beat him, because Dale was furious. Ah, grouchy sims.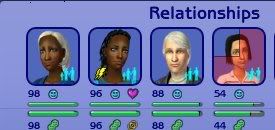 pop *yawn*



This never ends. Every morning, Ross gets out of bed and spies on Zeus and Zeus comes over and shoves him around. Circle of life and all that.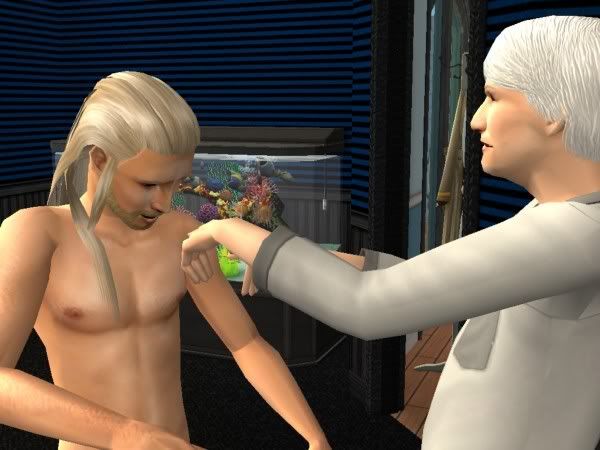 Two elders in pyjamas. Where could they possibly be heading off to?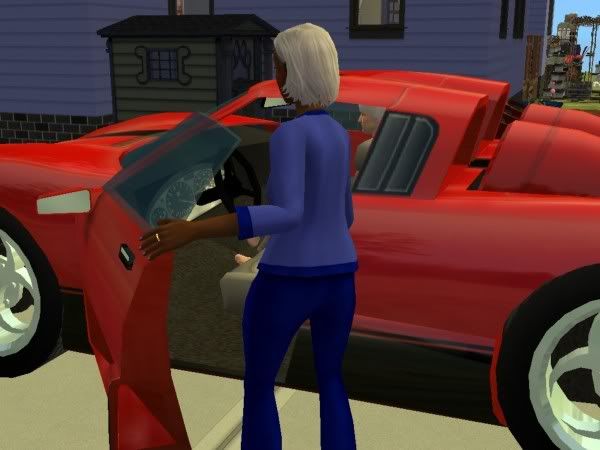 Orgasmville, by way of Woohoo Township.



There are 8 other lots in this neighbourhood, but Zeus is the only sim they spy on.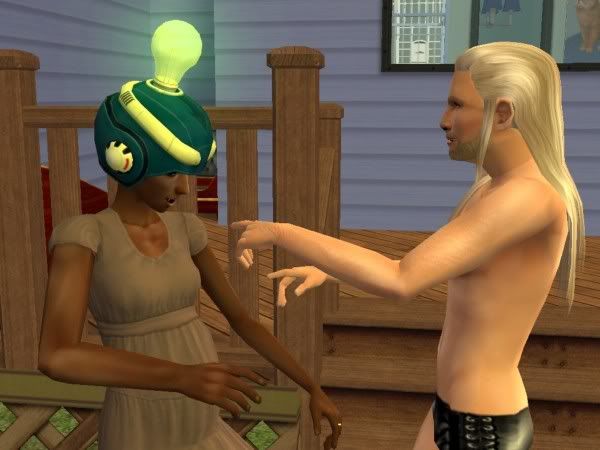 Poor child caught flu from a guest.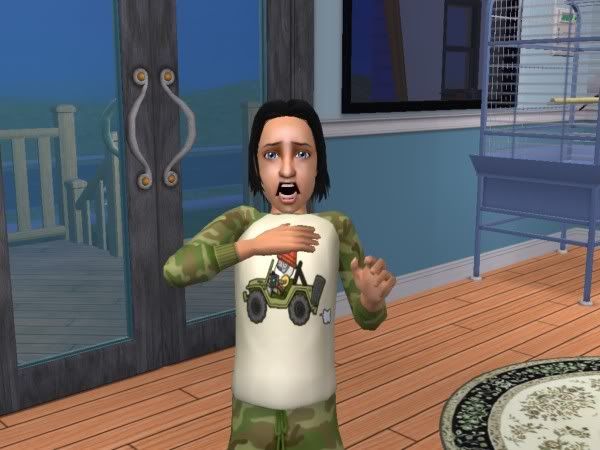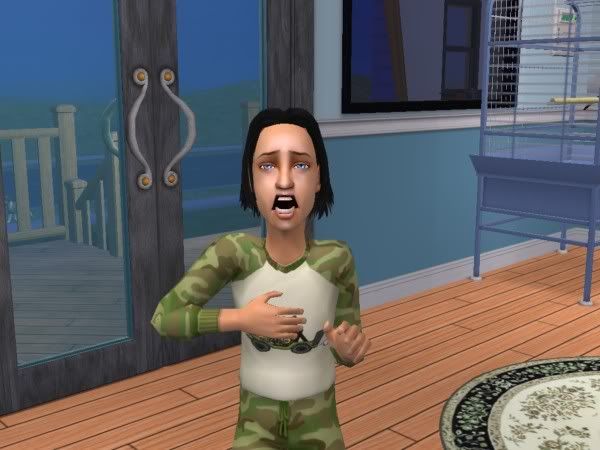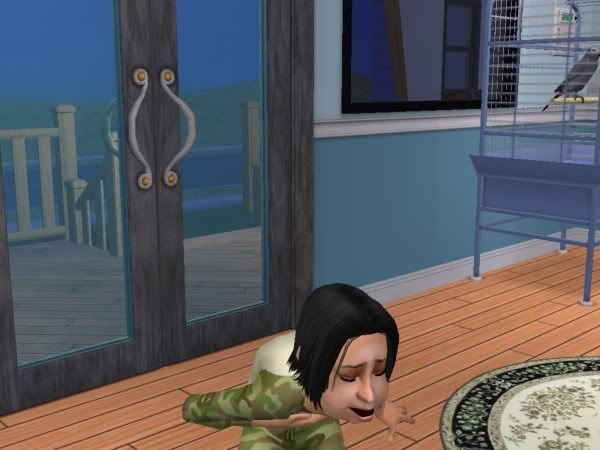 Aww



Being pregnant is no excuse for getting fat, right, Ivy?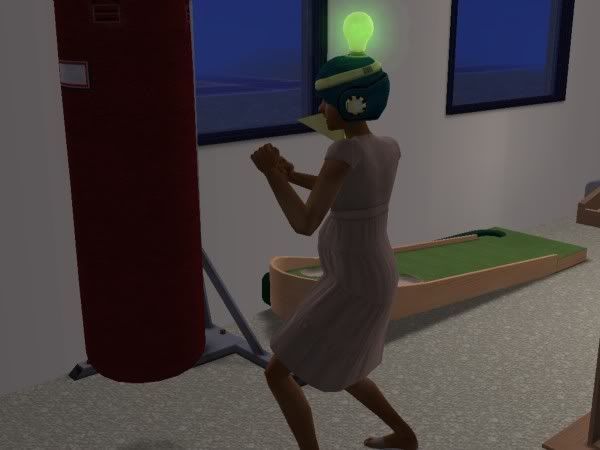 I'd be afraid if that wasn't the funniest angry face I ever saw.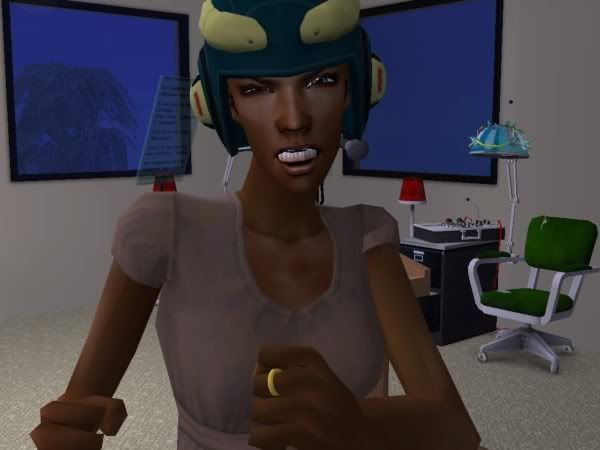 I want a girl, you!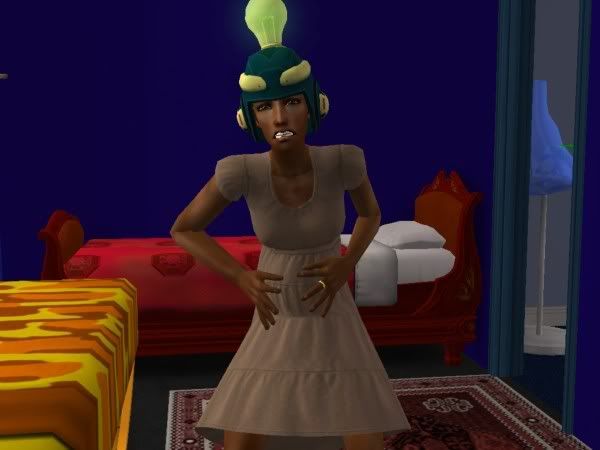 Have we seen this before? Yes, we have. This is Doug. That's not a girl's name, because he's not a girl.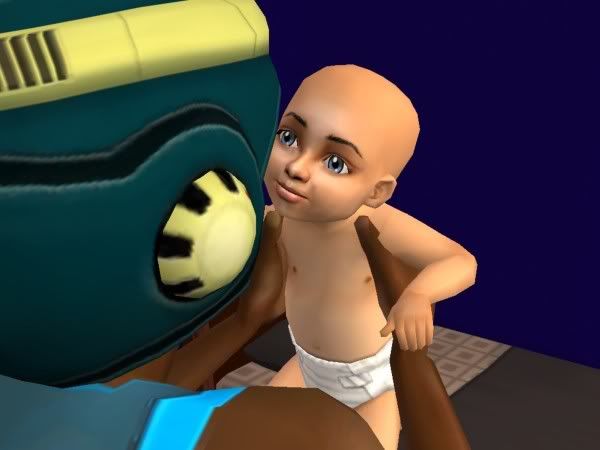 I noticed a lot of women with lightning bolts in Ross's panel. Let me introduce you to them all. Aphrodite, Dagmar, his sister-in-law, Persephone, Melissa Fancey, Hera, his daughter-in-law, Marylena Hamilton, and, finally, his wife. He has the least attraction to his wife. D'oh.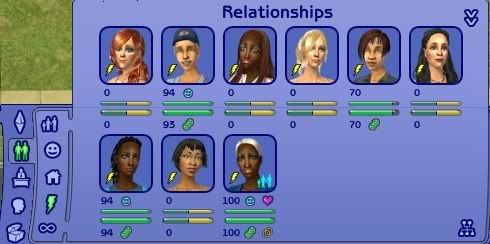 Bah, Sammy's boring, but he was the only dark puppy left in the pound. Now there's only one breedable puppy left in the pound, and it's white.



Great marks are so exciting, don't you think?



Dale is one of the few sims I've actually let cheer for their kids' grades.



GET BACK ON THAT BUS, MARSHA



I want long tails back!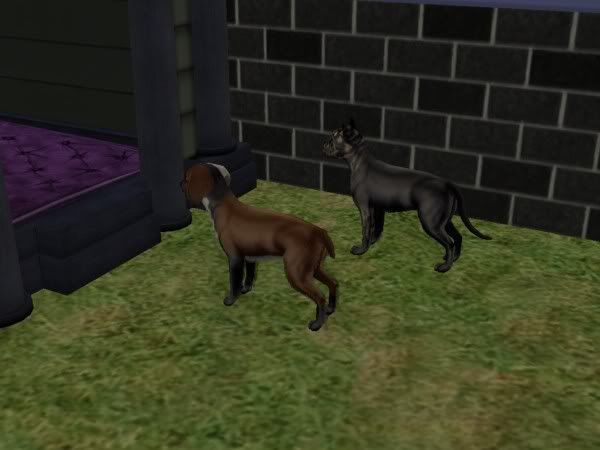 Oh boy, this is gonna be interesting...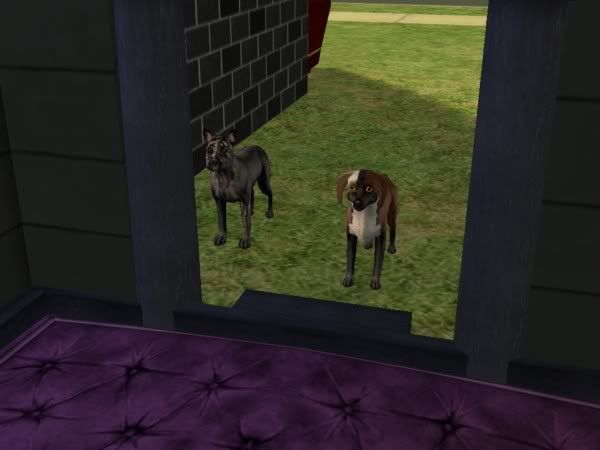 Dale: Ivy, we need a girl to complete our family.
Ivy: Ugh



My elders always want to be werewolves. As funny as that would be, I don't think it's going to work out for Jane: strays never come back after she meets them



This looks so wrong, but Dale wanted to kiss and Ivy was asleep. *snicker*



It's Doug's birthday, finally. I hope he's not a clone of Clark.



Should I throw my cousin toward the ceiling on her birthday and wish for good looks? It seems to be the appropriate things.



Photographic proof that toddlers can grow with custom hair. It stays, but the tux goes.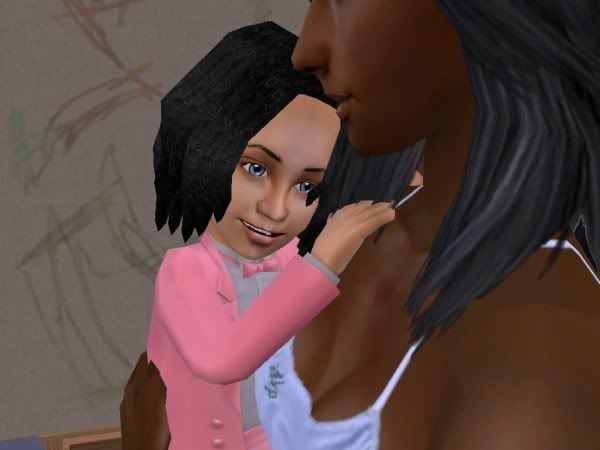 This will be the last kid, since the adults are getting old.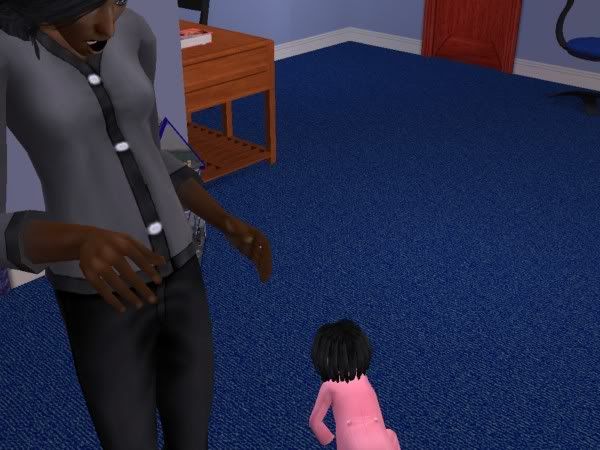 LOOK AT HIM. He got Ivy's nose, just like his brother, but he doesn't look exactly like Clark did. Let's just hope the new baby's a girl.



I caved and built them a pond. That, and I want them to have better meals. I get sick of non-glittery food.



Clark was the first to land one. Ooh, catfish.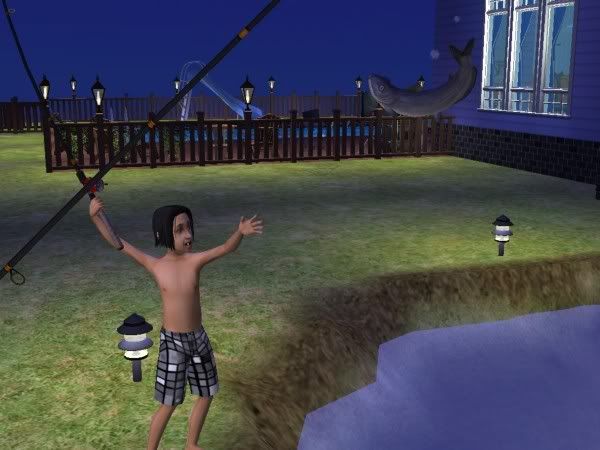 Ivy next, also with a catfish.



Then Dale, with a bass! Jane also caught a bass, but it wasn't as cool.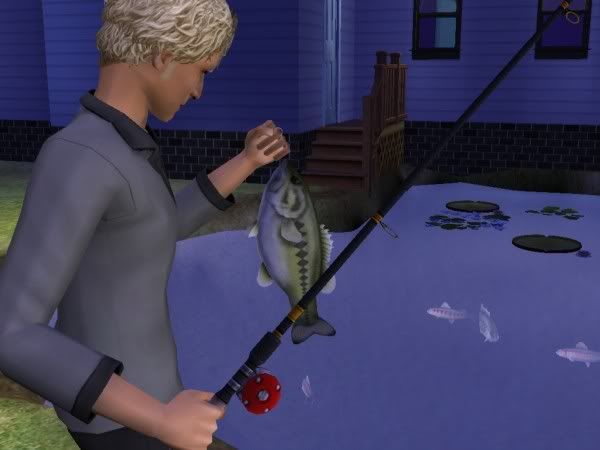 Ivy caught another bass, and the biggest one yet. All fish went into the fridge for Ivy to cook and use as leftovers during her pregnancy.



Dale, of course, is dreaming lovebubbles over Jim. Don't we all find our cousins hot? DON'T WE?? *Disclaimer-I do not find my cousins hot. They are named Emily and Olivia and are 6 weeks and 20 months old. They are cute, though.*



Look! Princess is smelly! Oh, and Maggie died. Good, more room in the house.



:O That's a big freaking fish. I couldn't hang it on the wall for some reason, though.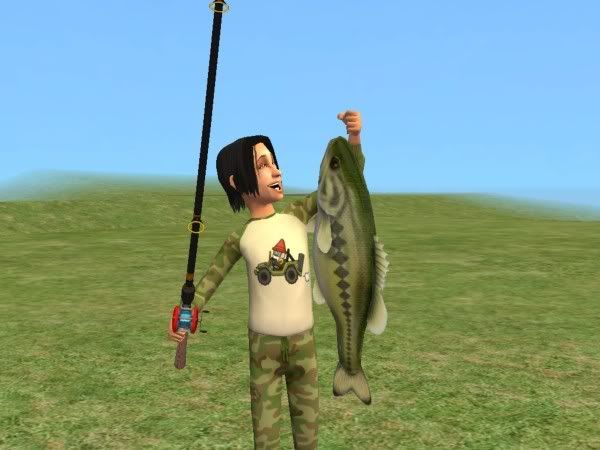 ANOTHER ONE. He's good.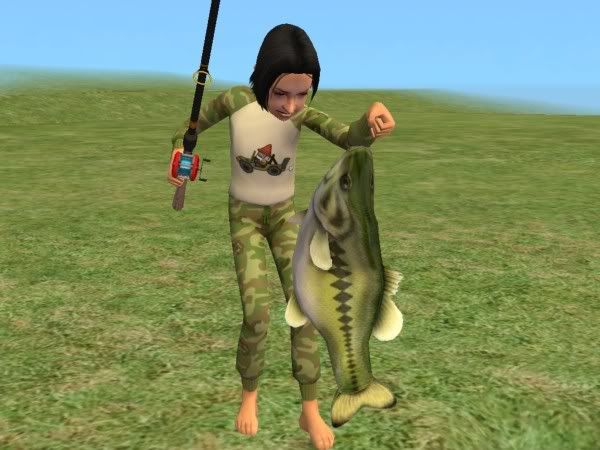 PUPPIES!!!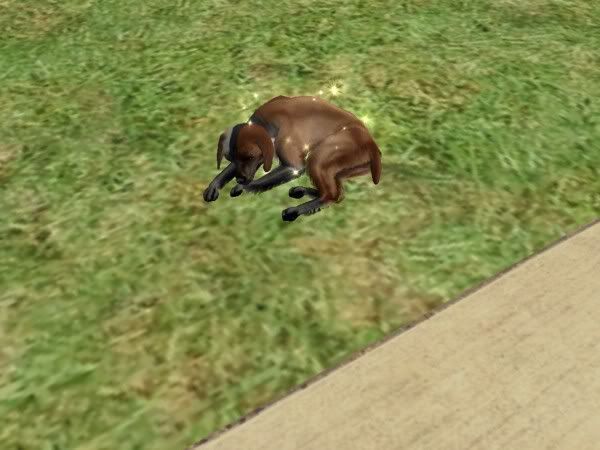 Only one :/ Vinny. This calls for more puppies, yes?



~Sparkly bass~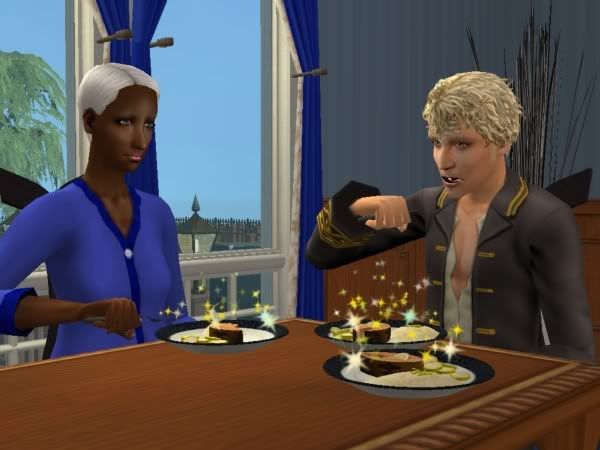 I really hope this is a girl.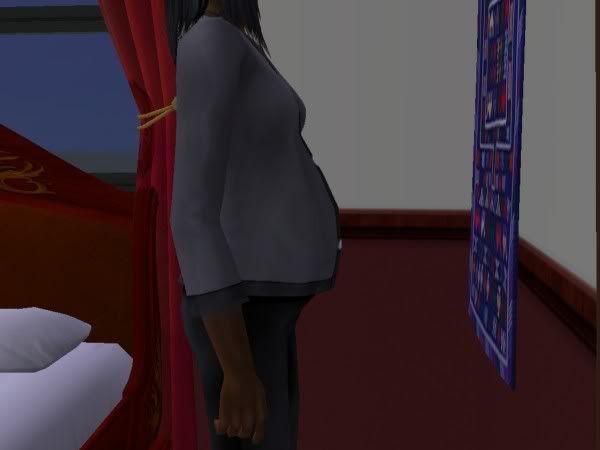 Please note non-failing family, since there seems to be a lack of that.



A nice final picture for you all: The view from the graveyard. I don't know how much in demand a tour of the lot is, but I'm willing to do it if there's some interest.



Oh, wait, and this. Clark's the grey one (Clark Kent Silly Papaya Baconhead Malarkus the Supercat Ra Scuba Steve Marge Snakerapist Bookface Extra-Gigante...don't ask) and Cleo (Cleopatra Smith) is the one playing with the chair. I love my kitties and you will, too!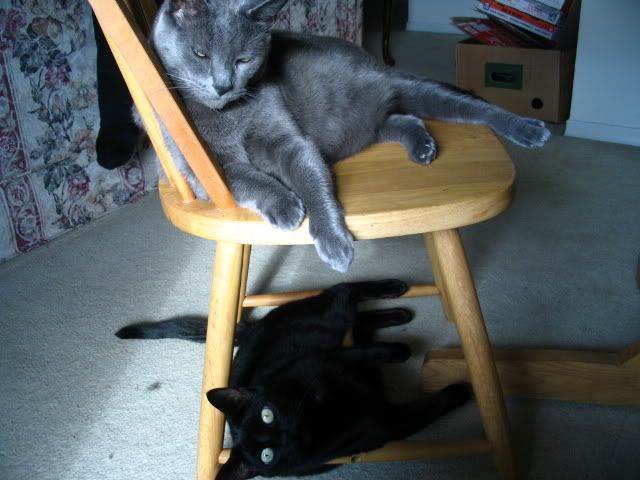 They beg you

I think my provider screwed up and disconnected somebody else's internet. They've been by twice to do it and I'm still connected. They better not charge me for this mistake. Also, I completed a crazy set of eyes available at MTS2. I'm swampcandy, in case you want to take a look. There's a townie-enabled genetic set and a pick-your-own default set. I am looking for feedback on them because I want to get better.
Missing something?
Current Music:

The Distillers-Beat Your Heart Out